The country's first copper-domed Buddhist temple is being built in West Cork
by SeŠn " Riordan, Irish Examiner, November 13, 2016
West Cork, Ireland -- Building has started on the country's first copper-domed Buddhist temple that's expected to be completed by next October.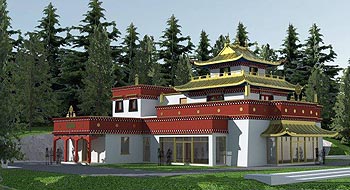 << Artist impression of the new Buddhist temple at Dzogchen Beara, Co Cork.
The spectacular Tibetan-style temple, which will cost nearly €2m to complete, is being built overlooking the Atlantic Ocean in West Cork.
The design is authentic, but bows to an Irish angle to accommodate views of the ocean rather than the Himalayan plateau.
To celebrate 30 years of Buddhism in Co Cork, the charity which runs the tranquil, rocky outcrop retreat has used all the facets of a traditional style temple, but with the addition of windows which will provide spectacular views of the ocean below.
The location for this "was not a chance pick" by the English couple who searched around Ireland for the idyllic spot to build the Buddhist meditation centre.
In 1973 Peter and Harriet Cornish visited the wild and beautiful Beara peninsula and came across a 150-acre site on the coast between Allihies and Castletownbere, which they fell in love with it.
By 1986, they had built a large central house and six smaller ones, constructed roads, installed electricity and water, and planted 15,000 trees.
In July that year they invited Tibetan lama Sogyal Rinpoche to lead the first weekend retreat, returning to teach again a few months later.
The following year Rinpoche was asked to become spiritual director of the centre, and he gave it the name Dzogchen Beara.
The centre was formally handed over by the couple to him in 1992 and Dzogchen Beara became a charity.
Centre director, Malcom MacClancy, said the "Tibetan masters say the view inspires meditation without effort".
He said once the temple is built it will be capable of holding 300 people on the ground floor.
"It is being built in the style of a traditional Tibetan temple over three floors, but we are putting in large windows to accommodate views of Bantry Bay," said Mr MacClancy.
Some of the open spaces will be filled with Buddhist statues and the centre is talking to leading lamas about which ones to install: "They will probably be imported, most likely from India."
Dzogchen Beara will fund the centre through donations and the money it makes from its shop and cafe and through renting out accommodation at the site.
The charity welcomes people of all faiths and no faith who can simply come to its twice-daily meditation sessions or stay for a while in any of its houses, which are Bord Fáilte-approved.
Mr MacClancy said up to 50 people at a time attended these sessions in July and August and visitor numbers to Dzogchen Beara have noticeably increased over the past couple of years.
He says this could also be down to the growing popularity of the Wild Atlantic Way.
In 2009 Dzogchen Beara opened a Spiritual Care Centre, which welcomes people for care breaks and specially-designed courses, as well as support groups for those who are living with illness, disability and loss.
Since then it has welcomed many people who have a terminal illness or are going through a crisis in their lives.
"If people need a break and don't have the resources then the charity will look after that," said Mr MacClancy.