Ancient Buddhist celebration Kathina to take place in former church
by Lisa Nightingale, ShieldsGazette.com, Oct 18, 2016
An ancient celebration at a Buddhist temple in South Tyneside aims to give people the chance to find out more about the religion.

Newcastle, UK -- Members of the Buddhist meditation centre – at the former St Andrew's Church, off Ellison Street, Hebburn – are preparing to stage one of the most important celebrations on the calendar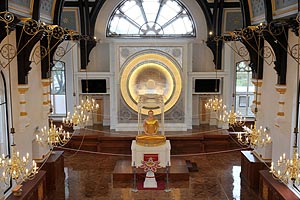 << The Temple. Picture by FRANK REID
The Kathina service will take place on Saturday, October 29, and, as well as carrying out traditional ceremonial activities, it will also give people the chance to find out more about the teachings of Buddha and the benefits of meditation.
There will also be the unveiling of a permanent Buddhist statue. The event has been held at the temple for the last three years and attracts hundreds of people from across the country.
The Kathina festival, dating back 2,500 years, is the largest alms-giving event of the Buddhist year. It is held at the end of the monsoon period, in October or November, to mark the time when Buddhist monks move on from where they had been based for several months previously. The festival also celebrates offerings of cloth.
It is really good more people are taking an interest. Monk Pan Monk Pan said: "Last year we had 200 people attending the celebration. This year, we have many more local people who have registered to come along. "It is really good more people are taking an interest.
"In my opinion, I think for most people they are more interested in the meditation and the teachings of Buddhism, as they find them reasonable and they can help them in their life."
The celebration will start at 9.30am with morning chanting and meditation, followed by the ceremony of enshrining the Buddha image and alms-offering ceremony. In the afternoon monks will obtain a robe before preparing for the robe procession.
The Kathina offering procession and Kathina offering ceremony will then take place. The event will include lunch of Thai dishes. Monk Pan added: "A Buddhist monk can't cook for himself during the celebration, so they are given a silver dish, which people will be asked to put food into.
"The celebration has lots of traditional elements to it, which is why it is on all day." There is no charge for the event, however, people are asked to make a donation.
For information on services held at the temple or to register for the Kathina service, visit www.meetup.com/Meditation-Newcastle/.