North-east Buddhist retreat backed by planners
by Ryan Cryle, Evening Express, 17 Dec 2016
Aberdeen, Scotland (UK) -- Proposals to turn a cottage on the outskirts of Aberdeen into a monastic retreat have been backed by planners despite fears over traffic.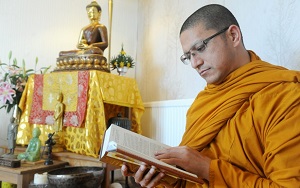 Varapunya Meditation Centre submitted plans to Aberdeenshire Council to change a residential property into a place for Buddhist teachings.
Planned by Venerable Sujan, the new base, at Easter Mains Cottage between Kingswells and Westhill, will include ancillary woodland,a meditation garden and two summer houses.
But 11 letters of objection have been submitted against the development with fears raised including an increase in traffic, the unacceptable impact on greenbelt and concerns over provision for 30 car parking spaces.
Plans, if approved, will see the meditation garden filled with flowers, fruit trees, vegetable gardens, woodland and two small summerhouses. A shrine room is already in use inside the cottage.
Venerable Sujan, a Nepalese-born Buddhist monk moved to Aberdeen from Birmingham in 2011. He studied at the Theravada school of Buddhism in Nepal becoming a novice before taking a higher ordination, studying in Thailand.
He said the sanctuary would be a "quiet place".
He added: "That's the reason why we are here. I've looked at all the objections and the main concern is traffic. We normally don't have many cars coming.
"We applied for a car park with 30 spaces but that is only going to be used two or three times a year."
The 38-year-old monk added that there would usually only be six people attending meditation classes.
Venerable Sujan added that the outdoor meditation garden could be used by those in the local community.
He said: "It will benefit the area and environment."
Planners have recommended councillors on the Garioch area committee approve the proposals for the site at their next meeting on Tuesday.
A report by Stephen Archer, director of infrastructure services, said: "The proposal would not be in conflict with the role and function of the greenbelt due to the low impact nature and scale of the proposal and would not have a negative impact on the landscape setting."