Buddhist community must raise €500k in three months to build Ireland's first temple
by Graham Clifford, The Independent, May 6 2017
West Cork, Ireland -- Half-a-million euro must be raised in the next three months by a Cork-based Buddhist community if the construction of Ireland's first ever Tibetan Temple is to be completed on time.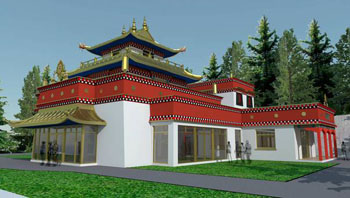 << An artist's impression of the Tibetan Buddhist Temple
Already €1.2million has been spent on preparatory works and basic construction at the site adjacent to the Dzogchen Beara Meditation Retreat Centre in Allihies on the Beara Peninsula in West Cork.
"We've now built the Temple up to the third floor so the basic concrete and steel structure is in place. It's a year since we effectively turned the sod on the site and the progress has been extraordinary. But if we are to have the building open for March of next year as we'd hoped we need to raise another €500,000 by the end of July and that's a major challenge," explained Malcolm MacClancy who is the Director of the Dzogchen Beara Centre.
Once the Temple has been constructed another €200,000 will be required for sacred decoration. It's believed the building will attract thousands of visitors each year – especially from across Europe.
"This Temple overlooking Bantry Bay will be something of a jewel in Tibetan Buddhism worldwide," MacClancy told the Irish Independent.
In June 2008, Sogyal Rinpoche, author of 'The Tibetan Book of Living and Dying', and the spiritual director of Dzogchen Beara, proposed building Ireland's first Buddhist Temple.
Tibetan master Orgyen Tobgyal Rinpoche visited the cliff-top centre in May 2009 to advise on the temple design, location and orientation and the site, itself, has been consecrated.
Last year's census recorded 9,358 Buddhists living in Ireland, an increase of 11pc on the 2011 census findings and a 43pc increase on the 2006 figure.
Buddhist leaders in the country believe alternative forms of meditation, including mindfulness which has its origins in the Buddhist faith, have initiated increased interest in Buddhism.
The Buddhist Temple in West Cork will be open to all, not just Buddhists and a senior Buddhist cleric, Holiness Sakya Trizin, has agreed to officially consecrate the Temple at a ceremony during the summer of 2019.
Last year 7,500 people engaged with meditation, either in daily sessions or on retreats at Dzogchen Beara and that figure is expected to rise this year.