Karmapa Thaye Dorje to visit UK
The Hindustan Times, August 2, 2005
London, UK -- A twenty-two-year-old "living Buddha" will be visiting the UK for the first time, and will be guest of honour at a special inter faith celebration attended by the Bishop of London, according to a press statement issued by the Hindu Forum of Britain.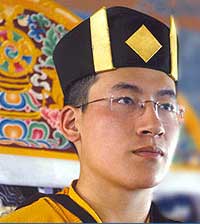 << Karmapa Thaye Dorje
It said," Karmapa Thaye Dorje, the spiritual head of the Karma Kagyu lineage of Buddhism, has hundreds of thousands of followers across the world. His Holiness says: 'I am always very excited to visit different parts of the world and this is my first visit to Great Britain. England is an important country to help increase people's awareness of Buddhism around the world'."
Karmapa will be arriving on Friday and will hold teachings and services for thousands of Buddhists over the weekend. He will then appear as guest of honour at a special inter faith celebration on Monday at St Ethelburga's Centre for Reconciliation and Peace in central London.
Richard Chartres, Bishop of London, Sheikh Salahuddin, an imam from the London Central Mosque, and Rabbi Jacqueline Tabick, Chair of the World Congress of Faiths, will be among the numerous religious leaders celebrating friendship and trust between Britain's faiths, almost exactly a month after the London bombings.
Ramesh Kallidai, Secretary General on the Hindu Forum of Britain (who co-host the event) says: "This inter-faith reception in the presence of Karmapa and other religious dignitaries is very unique as it honours all the major faiths in the UK.
"And it is very apt that leaders from the main faith groups are congregating in a Christian Church one month since the tragic bombings in London, it is a clear show of friendship, solidarity and trust between the different faiths in Britain."