Dalai Lama visit sparks diplomatic row
by Matthew Allen, swissinfo, August 2, 2005
Zurich, Switzerland -- A visit this week by the Dalai Lama to Switzerland, which will include a meeting with the interior minister, Pascal Couchepin, has angered China.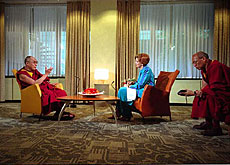 The Chinese embassy in Bern told swissinfo that it opposes the meeting, accusing the Dalai Lama, the spiritual leader of Tibetans, of engaging in "anti-China activities" under "the cloak of religion".

The Dalai Lama will deliver an eight-day series of Buddhist teachings in Zurich and is expected to meet Couchepin at the Federal Institute of Technology on August 4.
"The Dalai Lama is not a pure religious figure but a political exile, who has long engaged in activities of splitting China and undermining the national unity in the cloak of religion," said the Chinese embassy.
"The Chinese government firmly opposes any anti-China activities of the Dalai Lama or his followers in any country aimed at separating China, as well as any invitation extended to or meeting with the Dalai Lama by official figures of any country."

Thorny issue

The interior ministry defended the planned meeting with Couchepin, pointing out that former cabinet ministers René Felber, Flavio Cotti and Ruth Dreifuss have previously met the Dalai Lama ? in 1991, 1995 and 2001 respectively.
"Switzerland considers the Dalai Lama the spiritual leader of the Tibetan Buddhist community," said spokeswoman Katja Zürcher. "As such, he is being met by cabinet minister Couchepin."
Zürcher said the Chinese authorities had communicated their concerns in relation to the planned meeting. "The Swiss authorities are in regular contact with their Chinese counterparts in order to explain our position."
It is not the first time Switzerland has clashed with Beijing over the thorny issue of Tibet, with Chinese President Jiang Zemin dressing down Dreifuss in 1999 following a pro-Tibetan rally outside the government buildings in Bern.
Couchepin became the first Swiss minister to visit Tibet in October last year. During the trip he called on the Chinese authorities to respect the rights of Tibetans.

Swiss schedule

The Dalai Lama fled Tibet in 1959 and was awarded the Nobel Peace Prize 30 years later for opposing violence during his struggle to liberate Tibet from Chinese control.
He will teach at Zurich?s Hallenstadion from August 5-12. He is also due to attend an inter-religious meeting in Einsiedeln and symposiums on neuroscience at Zurich University and on "Fear and Anxiety" at the Federal Institute of Technology.
Tickets are on sale to the general public with profits going to charity.