A shrine way to treat a house
by JOANNA VALLELY, Scotsman, Aug 26, 2005
Edinburgh, Scotland -- FROM the outside it looks like an ordinary two-storey detached house. The whitewashed three-bedroom home on the busy main road boasts no outstanding external features to draw attention to it. But 199 Slateford Road is home to three Thai Buddhist monks.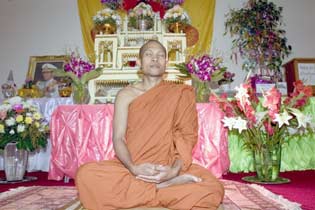 << Monk Saworn Insom mediates by the altar in the two-storey house, which he says is peaceful and 'a good place'. Picture: LESLEY MARTIN
And it conceals an ornate worship room where Buddhists come to chant in front of an altar on which a golden Buddha, surrounded by candles and flowers, takes pride of place.
A million-pound building campaign was launched by the Scottish Thai community last May to construct the city's first custom-built Thai Buddhist temple.
But financial problems have so far put a stop to the goal of building a permanent meeting point for the 500-strong Thai community.
Instead, the Buddhists used the money raised from private donations to buy a temporary home for the monks.
The original plan was to build a traditional Thai-style temple, with room for at least five monks, a prayer room to accommodate 30 people, space for religious and cultural lessons and a large garden area for meditation.
Yongyut Suayngam, chairman of the Scottish Thai community, said:
"We have been struggling with our finances and in the meantime we have done the best we can to provide a home for the monks.
"The new house is not too bad. It's temporary - it would be better if we could find somewhere up a mountain, but at least it is convenient to access here."
The three monks based at Slateford Road, Saworn Insom, Wisit Greessawee and Wattana Somboon, chant morning and evening and plan to run retreats and meditation classes.
Mr Insom came here from Bangkok two years ago and said he found Edinburgh "very peaceful". He said: "We chant the teachings of Buddha for 30 minutes at 6pm and then we meditate for 30 minutes."
He admitted that the location was not ideal, but said it was "a good place".
He added: "You can be peaceful in your mind and believe you are in a real temple."
Andrew Burns, councillor for Moat Ward, said: "We welcome people of all faiths and nationalities into our city and this is part of what makes Edinburgh so special. I am sure that this temple will make a great addition to the local area and I extend a warm welcome to them."