A question of faith
by Brian Currie, Evening Times, Nov 16, 2005
Glasgow, Scotland -- BUDDHISM is the fastest-growing religion in Glasgow, according to a unique spiritual map of the city. But the study has also found a huge rise in godlessness – with the affluent west end of the city the most non-religious place of all.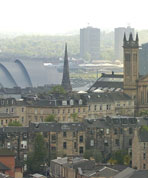 << BUDDHISM is Glasgow's fastest-growing religion
And the traditional barriers between religions marrying is also being blown away, with a third of Roman Catholics marrying outside their faith.
The results, which give a rare insight into the religious practices of those living in Scotland's biggest city, are based on a survey commissioned by the city council and the Executive. It was carried out by researchers at Edinburgh University.
They were gleaned from the 2001 census which asked religious questions for the first time since 1851.
The report comes as council chiefs are to appoint an interfaith liaison officer. The £25,000 post is being created in a drive to improve relations between the council and the city's religious groups.
A spokesman said: "This information provides a baseline from which we can understand the needs of the local faith communities and take them into account when forming policy.
"Glasgow has always been a multi-faith city, whether you're talking about the Irish Catholics coming across in the last couple of centuries, the Jews coming at the end of the 19th century or the new Glaswegians who have been coming here as a result of immigration."
Although Buddhism only has a small following in Glasgow, it attracted 28.5% of all those who had rejected Christianity and converted to another faith. It now has 1194 followers, a third of whom live in the Kelvin area.
The Muslim population has one of Glasgow's strongest faiths, with 17,792 believers.
But the rise is godlessness is stark. More than 131,000 people said they did not belong to any religion – a rise of 68% – and most of them lived in the west end. The researchers also found that 31% of people are Protestants, 29% are Catholics and 4% belong to other denominations.
Half of Hindu men, and a large proportion of women, are in professional and managerial jobs, and more than half of the Hindu community are graduates.
However, a greater proportion of Muslims, Sikhs, Protestants and Catholics have "routine" jobs.
Barriers between the Protestant and Catholic faiths have crumbled. Intermarriage is now common, with a third of the city's Catholics having married partners from other faiths.
Dr Michael Rose, co-author of Faith Communities and Local Government in Glasgow, said: "Glasgow is a multi-faith city in which a very large number are no longer cramped into categories of Protestant, Catholic or non-Christian in which they have been boxed in for so long."
But the 9/11 terrorist attacks on New York has led to religious hatred in Glasgow.
Racism has been superseded by verbal abuse and the targets are those who wear religious dress or symbols. Muslims complained that women wearing their hijab were often victims.
Sikhs too reported a rise in abuse, while Christian students claimed they were branded "Satan" by Muslims. A Muslim man said he was no longer referred to as "Paki this and Paki that." Instead he was told repeatedly "you are a terrorist".