His Holiness welcomed by Northern Ireland?s oldest peace movement
by Tsering Tashi, Office of Tibet, London, Nov 20, 2005
BELFAST, Northern Ireland -- His Holiness the Dalai Lama arrived here this morning in the Northern Ireland capital of Belfast after a two day successful visit to the Scottish capital of Edinburgh where he spoke at the concluding session of the 4th World Parliamentarians' Convention on Tibet, took part in a discussion on "Ethics for the New Millennium" at the downtown Usher Hall and addressed an education conference at the University of Edinburgh.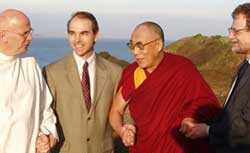 His Holiness and his entourage, including Representative Mrs. Kesang Y. Takla, who heads the London Office of Tibet, were welcomed upon their arrival at the Belfast City Airport by Father Laurence Freeman, head of The World Community for Christian Meditation, and Brendan McAllister of Mediation Northern Ireland. And as His Holiness entered the mezzanine of the hotel, The Ray of Hope Choir played and sang "When a Child is Born".
Welcoming His Holiness the Dalai Lama after the musical presentations, Don McBurney, Director of A Ray of Hope, said, "Then as always we are at the command of His Holiness who may or may not speak to others. All I will advise is that you allow the presence of His Holiness and his serenity to embrace you." A Ray of Hope is a UNESCO affiliated youth NGO that aims to profess the belief in the international development of a culture of peace.
Later in the day, His Holiness visited the Corrymeela Centre at Ballycastle, about an hour's drive from Belfast city. There the Tibetan Nobel Peace Laureate was warmly received and welcomed by 90-year-old Ray Davey, founder of Corrymeela, and Ronnie Millar, the current Director of Corrymeela Centre, among others. Corrymeela is the oldest peace movement in Northern Ireland and considered influential in the Northern Ireland peace process.
His Holiness was given a guided tour of the Corrymeela Centre, which is located near the Rathlin sea coast and then was lead to the centre's main hall where David Stevens, the Leader of Corrymeela, welcomed His Holiness and briefly spoke about the reconciliation work of Corrymeela, which this year celebrates its 40th founding year.
"Even as a victim of hope, Your Holiness has gently brought the message of hope. So on our 40th anniversary, we are happy to welcome you," said the leader of Corrymeela, whose membership include followers from both Catholic and Protestant faiths.
Reciprocating the warm welcome, His Holiness expressed his greetings on the 90th birthday of Corrymeela's founder Ray Davey, who along with his wife Kathleen Davey was seated next to His Holiness. His Holiness also said that he appreciated the efforts made by the Corrymeela Centre during the last 40 years in trying to bring about reconciliation between the two warring Christian communities of Northern Ireland.
"Peace in Northern Ireland is possible if you make constant effort. Basically everything is uncertain – future of Northern Ireland is uncertain, the future of Tibet also is uncertain. But we must carry on life with hope and good motivation. The important thing is to ensure that days, weeks and months are not wasted," His Holiness said.
In his pursuit to promote inter-religious harmony, His Holiness spoke about how he had managed to closely work with Christian brothers, such as Father Laurence Freeman and added that compared to the "thick wall" that exists between Christianity and Buddhism, the differences between the Catholics and the Protestants were minimal.
"Think more broadly, with wider perspective and use common sense to realise that it is no use to kill each other. You have to live together side by side. So better live happily," His Holiness told the attentive audience, some of whom later spoke about how they agreed with His Holiness' line of thinking and were willing to share his optimism on peace in Northern Ireland and the world.
Judging by the number of questions that were asked to His Holiness about Tibet, it became apparent that the gathering at Corrymeela Centre also were concerned for the plight of the Tibetan people. When asked whether His Holiness was optimistic about Tibet's future, he replied in the affirmative. His Holiness said this was so because firstly, the Tibetan cause is a just cause "that gives us tremendous strength" and secondly, because the Tibetan cause has attracted a lot of friends and supporters, including "more and more Chinese who are showing sympathy and concern for Tibet and following the Tibetan Buddhist culture".
His Holiness last visited Northern Ireland in 2000. He has since followed the peace process closely and has been eager to return to renew friendships and to make what he calls "some contribution" in helping to bring about peace and reconciliation in this complex situation. During the next two remaining days here, His Holiness will take part in a series of engagements with various peace and reconciliation activists in Northern Ireland and also meet with leaders from all the political parties.
His Holiness' visit will culminate on 22 November with "a public event under the banner of the 2005 Way of Peace" in St Anne's Cathedral that will be hosted by the Christian Meditation Community of Northern Ireland.