Hunger strike sends IOC into tough situation
By CHARLES HUTZLER , Associated Press, Feb 26, 2006
TURIN, Italy -- An elderly Buddhist monk and two other Tibetans refused yesterday to call off a 12-day-old hunger strike until the International Olympic Committee's president promises to pressure China to improve human rights in Tibet.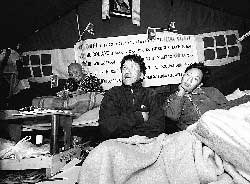 << Palden Gyatso, 75, left, sits with fellow Tibetan activists in Turin, Friday Feb. 24, 2005, where they marked the 11th day of a hunger strike to oppose the choice of Beijing as the 2008 Olympic host.(AP Photo/Massimo Pinca)
The Tibetans — camped out in a muddy, rain-soaked church yard not near Turin's Winter Games venues — held to their demands despite a visit from an Italian IOC member who expressed sympathy but pleaded with them to end their strike.
At issue, the Tibetans said, is the IOC's pledge, when it awarded the 2008 Summer Games to Beijing five years ago, to monitor human rights in China. They said they will not break their fast until IOC president Jacques Rogge issues a letter saying the IOC will live up to that promise.
"This is a responsible act," Palden Gyatso, a 72-year-old monk who spent 29 years in Chinese-run prisons in Tibet before fleeing abroad, told reporters. "We ask the IOC to take the opportunity to push the Chinese government to improve human rights."
Rogge has refused to meet with the Tibetans. His chief of staff sent a letter Friday to another Tibetan group, the Washington-based International Campaign for Tibet, rejecting the Tibetans' appeal and saying a Beijing Olympics would play a positive role "in China's changing social and economic fabric."
"We believe your demands fall unquestionably well outside the remit of our organization," the letter said.
The standoff brings to the fore an issue that has long drawn international concern — China's often harsh 55-year rule over Tibet — and underscores how human rights issues are likely to bedevil the run-up to the 2008 Olympics. China has a range of disaffected groups, from democracy campaigners, the urban unemployed and rural poor to Tibetans and Muslim ethnic groups who have chafed under Chinese rule.
The Olympics, with the international attention they bring, are often a magnet for protesters. The Olympic torch relay for Turin's Winter Games was disrupted by anti-globalization activists and opponents of a high-speed rail link; ten days before the opening of Mexico City's 1968 Olympics, soldiers shot an estimated two dozen to several hundred protesters.
"We're used to campaign groups using the Olympics as a platform for their campaigns," said IOC spokeswoman Giselle Davies. "The IOC is not a human rights monitoring organization."
But China is proving particularly nettlesome for the IOC and the international community. IOC members have said that the Games were awarded to Beijing with the expectation that respect for civil liberties would improve. While the Chinese economy continues to boom and daily life for most Chinese improves, the communist government's treatment of political dissidents and religious activists has hardened.
"China will not change the situation by itself," said Paolo Pobbiati, president of Amnesty International in Italy. "You have to exert pressure and the IOC has a role to play."
The Tibetans have had only hot water and plain tea since beginning their hunger strike Feb. 14; a doctor said Palden Gyatso also received antibiotics after developing bronchitis. They received little attention amid the hoopla of the Olympics until a popular Italian satirist put them on his blog earlier this week, sparking Italian TV and other media reports.
That in part prompted Mario Pescante, Italy's undersecretary of state in charge of sports and an IOC member, to try to mediate, agreeing to bring reporters from The Associated Press and other news organizations to meet the hunger strikers.
Pescante and the IOC insisted that he was acting in his capacity as an Italian official, not on behalf of the IOC.
The undersecretary also criticized Rogge, saying that Friday's letter so inadequately addressed the protesters' concerns that it would have been "best not to send it."
At the end of an emotional news conference yesterday, Pescante appealed to the Tibetans to end their strike: "With great sincerity, the IOC can't heal all the ills of humanity because there are too many. Yours is one of the ills that traumatizes your people and your nationality. You can't ask the IOC the heal all these ills."
But his intervention appeared to have strengthened the strikers' resolve. Because Pescante told them that Rogge took their concerns to heart, they demanded that Rogge sign a statement committing the IOC to pressure China on human rights and seek the release of political prisoners.
"They want a written statement from the president of the IOC. Otherwise they will not stop, " said Thupten Tenzin, a Tibetan doctor living in Italy and a spokesman for the hunger strikers.