Chess master plans his greatest move
by Jeremy Page, The Times, April 6, 2006
A mass migration from China could revive the fortunes of Kalmykia, one of Russia's poorest republics, writes Jeremy Page
Kalmykia, Russia -- They are known as "those who remained" -a small community of Asiatic people who settled in southern Russia when most of their Mongol brethren retreated to the Central Asian grasslands.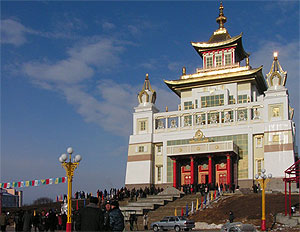 << The "Golden Temple of Hope", symbol of Buddhist solidarity in the Russian republic of Kalmykia
For almost 300 years, the Kalmyks have struggled to preserve their homeland - Europe's only Buddhist nation -as successive waves of their people were driven eastwards by the Russians.
Now their leader has come up with a controversial plan to rejuvenate the Russian republic of Kalmykia by importing thousands of ethnic Kalmyks from 3,000 miles away in China.
Kirsan Ilyumzhinov, the President and head of the World Chess Federation, says he is about to bring in 10,000 of his people from China's northwestern region of Xinjiang. The plan would "help the revival of the language and traditional grassland farming" as Chinese Kalmyks speak their native tongue and are skilled at animal husbandry, he said.
"Several hundred families have already moved from China to Kalmykia in the past several years and they have adapted well to life," he said.
An arid region on the northwestern shores of the Caspian Sea, Kalmykia has a population of just 290,000 people, half of whom are Kalmyk. The rest are mostly Russian and Caucasian.
But Mr Ilyumzhinov says there are between 300,000 and 500,000 ethnic Kalmyks in the relatively impoverished Chinese regions of Xinjiang and Inner Mongolia. The Kalmyks left these areas in the 16th century and moved west in search of more fertile pastures, eventually settling in what is now Kalmykia. But in 1771, Catherine the Great abolished their autonomy and tried to make them accept Christianity.
The Kalmyk leader -a follower of Tibetan Buddhism -responded by leading 200,000 of his people on a seven-month march back to what is now Xinjiang. The population was further depleted after the Bolshevik Revolution when thousands were executed for helping White Russian forces.
Then, in 1944, Josef Stalin accused them of collaborating with the Nazis and deported the entire population to Siberia, where half of them died.
When Nikita Khrushchev allowed the remaining ones to return in 1957, they found most of their land had been occupied by Russians and Ukrainians. Since 1991 they have struggled to revive their language, religion and culture in a region dominated by Christian Russians to the north and Muslim Caucasians to the south.
Kalmykia is now one of Russia's poorest republics with an average monthly income of Pounds 55 and a desperate shortage of labour.
Yet Mr Ilyumzhinov, a millionaire who became President in 1993 promising a mobile phone for every shepherd, has launched several extravagant projects to try to put Kalmykia back on the map.
A chess fanatic, he has headed the World Chess Federation (Fide) since 1995 and hosted dozens of international tournaments. He is building a multimillion pound Chess City outside the capital, Elista, featuring a dome-shaped palace, a hotel shaped like four chess pieces, and a residence for the Dalai Lama.
Critics say that his resettlement plan is a white elephant. One local paper dismissed it as "third-rate populism", and accused him of not being able to speak Kalmyk. The Chinese embassy said it had not heard about the project. Kalmyks are not an officially recognised ethnic group in China.
"Chinese authorities don't think about them as Kalmyks, they think of them as Mongols," said Aleksei Moskalyov, a China expert at the Russian Academy of Sciences.
Vyacheslav Postavnin, deputy director of the Federal Migration Service, said that the plan was feasible. "I know there aren't enough working people in Kalmykia," he told The Times.
"I heard Ilyumzhinov was talking to Uzbekistan about bringing in migrant workers.
I know he is trying to resolve this problem."
THE LOST EMPIRE
The Kalmyks are said to be directly descended from Genghis Khan
They once ruled an empire from the Great Wall of China to the Caspian Sea
A Kalmyk regiment served in the Russian army during the Napoleonic Wars (1812-15)
Kalmyk refugees built a Buddhist temple in Belgrade in 1929
About 60,000 Kalmyks died during the Soviet Union's great famine of 1932-33
Kalmyks revere the Dalai Lama, who visited the republic in 2004