Surviving a Tibetan gulag
By Sarah Buckley, BBC News, April 27, 2006
Ngawang Sangdrol, a former political prisoner in Tibet, only smiles once during our hour-long interview.
London, UK -- She had been asked how long a particular torture method - being hung by the arms after they are tied behind the back - would be used during incarceration.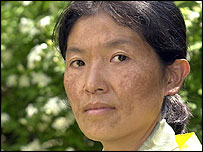 << Ngawang Sangdrol now lives in the US (Credit: Free Tibet Campaign/Helen Valentine)
"It's so painful you don't keep a timing on it," she said simply. Ms Sangdrol served 12 years in prison before she was released in 2002. She is still only in her late 20s.
She was first imprisoned aged 13, after she joined her fellow nuns in Garu Nunnery in shouting "Independence for Tibet" and "Long live the Dalai Lama" during a protest outside the Summer Palace in Lhasa.
She served nine months in Gutsa detention centre before she was released. But her freedom did not last long. In 1992, she was rearrested for joining another protest and taken to the notorious Drapchi jail.
Even when I first went to prison I knew this sort of torture was taking place... (but) I was even angrier that an invader would come to our country and persecute our people
Ngawang Sangdrol
The penalties at Drapchi were severe. Ms Sangdrol was forced to suffer beatings with iron rods and rubber pipes, electric cattle prods on the tongue, knitting and spinning until her fingers blistered, and six months in complete darkness while in solitary confinement.
There was also extremely unpleasant hard labour.
"For instance, we had to use night soil on the garden... You have to take turns to go down to the latrine and pass up the waste. When the bucket is pulled, inevitably it splashes and spills everywhere and it will go into your mouth," she said.
She still suffers headaches and kidney and stomach problems as a result of her treatment. But, she said, "the mental torture was worse". "We had to denounce his Holiness the Dalai Lama and were not allowed to engage in religious practice."
This answer is a measure of her commitment to her Buddhist beliefs and helps to explain her behaviour in jail.
Ms Sangdrol repeatedly defied the prison authorities, including singing revolutionary songs which were taped and smuggled out of jail, and this earned her ever-extended prison sentences.
She said the sacrifice was worth it.
"Even when I first went to prison I knew this sort of torture was taking place... (but) I was even angrier that an invader would come to our country and persecute our people," she said, referring to China's invasion in 1950, and its subsequent rule.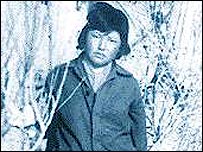 << She was only 13 when she was first arrested
She was eventually freed in October 2002. Her early release was ostensibly on grounds of good behaviour, but came just days before then-Chinese President Jiang Zemin visited George Bush's Texan ranch.
Thus, Ms Sangdrol won her freedom, but lost her family. She was forced to leave Tibet five months after her release, and to say goodbye to two sisters and a brother. She has not seen them since.
She now lives in the US and works for the International Campaign for Tibet as a human rights analyst.
She says she wants to use the next few years to learn foreign languages and to lobby for the "middle way" approach as advocated by the Dalai Lama - autonomy for Tibet, rather than independence.
Her new life in the US is also personally significant.
"In the prison I was not allowed to do religious practice, but now I have the opportunity, and it's nice now," she said.