Buddha Day Celebrations 2006 in UK
by H.W.De Silva, Photographs by Tissa Madawela, Lanka Everything, Aug 10, 2006
London, UK -- United Kingdom Buddhist Day was celebrated among a large gathering of Buddhist Monks, distinguished guests and devotees and supporters of the Sri Saddatissa International Buddhist Centre in London.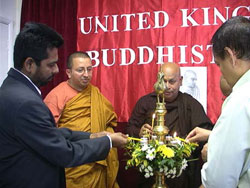 The UK Buddha Day celebrates the arrival in the UK in 1908 of the first Buddhist Emissary, Ven. Ananda Metteyya, an analytical chemist from England. As Henry Allen Bennet he went to Sri Lanka, studied Buddhism and received ordination as a Buddhist monk in Burma.
The celebration commenced with the lighting of traditional oil lamp by the distinguished guests followed by the observance of Five Precepts administered by Ve. Dr. Handupelpola Mahinda Nayaka Thero. Ven. Galayaye Piyadassi Nayaka Thero, Head of the Centre, in his welcome speech stated in detail the purpose of the celebration and paid tribute to Ven. Metteyya for his valuable mission which culminated in the popularising of Buddhism in the UK.
This was followed by a short speech of appreciation of Ven. Metteyya's vision and steps taken taken by Ven. Piyadassi Thero to appropriately commemorate the event annualy, by Mr. S.S.Ganegamaarachchi, Deputy High Commissioner for Sri Lanka in the UK, on behalf of the High Commissioner.
The commemoration lecture by Ven. Dr. Deegalle Mahinda Thero, Senior Lecturer, Study of Religious School of Historical and Cultural Studies at Bath Spa University, who spoke on Theravada Buddhism in London kept the audience alive with interesting historical facts with video graphics and illustrations.
It was a fantastically detailed presentation of the awakening to Buddhist Philosophy in the UK from the beginning of the centuary up to the present day. Sir Neil Thorne, The Deputy Lieutenant and the Queen's Representative in the London Borough of Brent also spoke in appreciating the speech by Ven. Mahinda Thero and also discussed the problems faced by various faith groups in the UK in propagating their religious philosophies.
In his note of thanks Wimal de Silva said that " he was happy and proud that the centre has achieved international repute in a short period of 15 years, and praised the indefatigable leadership and guidance of Ven. Piyadassi Nayaka Thero and paid tribute to the supporters of the centre without whome the centre could not have achieved so much.
The celebration was concluded with a screening of video film on the public meeting held in Walahaduwa, Galle, Sri Lanka to hand over the keys to the prospective owners of the new homes in a village named " London Kingsbury Village " built by the centre for the 2004 Tsunami victims.