Dalai Lama leads prayers at Russian monastery
Ireland Online, Nov 30, 2004
Elista, Kalmykia (Russia) -- Thousands of Buddhist pilgrims trekked to a temple in the southern republic of Kalmykia today to join prayers led by the Dalai Lama on his first visit to Russia after years of being denied entry.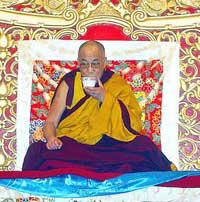 As believers set up small stools outside the elaborately decorated temple at the Khurul Monastery to await the morning prayers, the Dalai Lama sat inside under a gold statue of Buddha, surrounded by monks sitting on carpets.
They ate white rice and raisins off white china ? the colour signifying purity.
Pilgrims had to walk about a mile and a half through a wind-swept field to reach the monastery, about four miles north-east of the Kalmyk capital Elista, undergoing seven security checks by police.
As they entered the monastery, they paused to touch the 18 drums lined up on both sides, under the complex?s carved roofs. Many carried small silk scarves with them, symbolising a meeting.
About 15,000 pilgrims were expected to arrive by midday, when prayers were to be in full swing.
The Dalai Lama arrived yesterday in Kalmykia, a region where about half the 300,000 residents are Buddhists. The Russian Foreign Ministry said it had granted him a visa on the grounds that he limit his activities in Russia solely to pastoral purposes.
Kalmykia, about 1,000 miles south-east of Moscow, is one of the largest centres of Buddhism in Russia.
About one million of Russia?s 144 million people are Buddhists. Along with dominant Russian Orthodoxy, Islam and Judaism, Buddhism is officially considered a traditional Russian religion.
The Dalai Lama, who lives in exile in India, also leads Tibetans who resist Chinese rule. Russia, wary of upsetting China, has rejected visa requests for the Dalai Lama at least three times in the past.
China occupied Tibet in 1951, and claims that the Himalayan region has been Chinese territory for centuries. Russia has refrained from any official contacts with the Dalai Lama, saying it considers Tibet ?an inalienable part of China?.
The Dalai Lama fled into exile after an aborted uprising against Chinese rule in 1959, and he travels frequently to conduct Buddhist ceremonies and seek support for his campaign for Tibetan political and cultural rights.
Yakovenko stressed last week that Russia?s position remained that Tibet was China?s internal matter and said relations with China were important.
Since the 1991 Soviet collapse, China has become the number one customer for Russian arms manufacturers.
In 2001, Russia and China signed a friendship treaty that affirmed Russia?s support for China?s territorial integrity.