Tibetan Buddhist Monks Take Part in the World Harmony Run
Phayul, Oct 17, 2006
Tashi Lhunpo Monastery, UK -- A team of international runners carrying a flaming torch to celebrate the completion of their seven months and 27,000 kilometres journey through Europe was held at the British Museum in London on 10th October.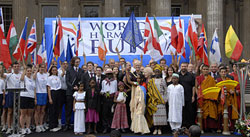 Dr Andrew Burnett, Deputy Director of the British Museum welcomed the dedicated runners and said, "We promote cultural diversity at this museum through our collections of arts and other materials from around the world whilst you (the runners) have done it through the Harmony Run". The Museum attracts five million visitors from the four corners of the globe every year.
During the year, simultaneous runs have been taking place in Africa, Asia, America and Australasia as part of the World Harmony Run, visiting communities, schools, government and non- governmental organisations in more than 100 countries.
Two young Tibetan Buddhist monks, Lobzang Padma (25) and Lobzang Samdup (32) of Tashi Lhunpo Monastery in south India, contributed to this event by playing rDhungchen, a long Tibetan horn, to greet the arrival of the international runners at the British Museum.
The group of eight monks from Tashi Lhunpo Monastery are presently touring in several European countries including UK, Portugal and Ireland until December, giving performances of the masked dances and sacred chant of Tibet, and holding sand mandala exhibitions and workshops. The monks made their UK and European debut in 1999 at the invitation of the Tibet Foundation; a London-based British Tibetan charity, founded in 1985. The current tour is organised by the Tashi Lhunpo Monastery UK Trust, established in 2003 to support the work of the monastery. Further details of the tour and the Trust can be found at www.tashi-lhunpo.org.uk
The World Harmony Run is a unique event that does not seek to raise money or highlight any political cause, but simply strives to create goodwill among peoples of all nations and strengthen a sense of international brotherhood and oneness. People of all nationalities, faiths and traditions have been drawn to participate in this event created by Sri Chinmoy in 1987, an Indian national, who believes that sport is a powerful instrument for promoting global harmony.
The Run has been held 8 times since 1987 and has involved more than 5 million people. It has been endorsed by many of the nation's Mayors, Governors and Members of the Congress, as well as by Pope John Paul II, President Nelson Mandela, the Dalai Lama, Mother Theresa, and Archbishop Desmond Tutu, among others.

CONTACTS:
Tashi Lhunpo Monastery UK Trust: Jane Rasch
Tel: 01722 782265, 07973 618285, Email: info@tashi-lhunpo.org.uk
The monks are touring in the UK until mid-December, performing on London's South Bank in the Purcell Room on Thursday 7th December, as well as in other venues around the UK.
Tibet Foundation: Tsering Passang
Tel: 0207 930 6001, Email: office@tibet-foundation.org