Plugging the holes at the castle of beauty
By Cathy Neligan, halifa Courier, March 5, 2007
£127,000 grant will pay for vital repair work
Halifax, UK -- BUDDHISTS will no longer have to put up with a leaky roof interrupting their meditation. Nuns and monks at the Losang Dragpa Buddhist Centre, housed in Grade II* listed Dobroyd Castle, Todmorden, have been awarded a £127,000 grant for repair work.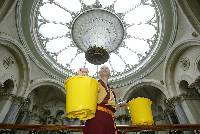 << Water mission: Ven. Longku collects rain from the leaking roof at Dobroyd Castle, Todmorden
The money from English Heritage and the Heritage Lottery Fund will be used for repairs to the tower roof, masonry and drainage.
The castle was built in the 1860s on a hill-top overlooking Todmorden for the textile baron John Fielden and his family.
The imposing building was bought by the Losang Dragpa Centre in 1995 and is now used as a residential Buddhist college and meditation centre.
Gen Chokga, the centre's resident teacher, said: "Receiving the grant is wonderful for us. It will mean that we can begin essential work to protect the fabric of this beautiful building, for the benefit of generations of Buddhist and non-Buddhist visitors alike. Without the help of English Heritage and the HLF this would not be possible."
Buckets litter the corridors and rooms, collecting rain water leaking through the roof. Ornate plasterwork and cornices are being damaged.
Trevor Mitchell, English Heritage team leader for West Yorkshire, said: "The Buddhists do a good job of keeping the building in decorative order, but they have never had the capital to deal with a big thing like the roof and they have been patching it since they bought it. But they can't patch it any more."
Michael Reilly, administration director at the centre, said: "When it rains we discover new leaks. The stonework is now quite badly damaged and water has come into the meditation rooms."
An initial grant will allow the centre to employ architects to prepare detailed plans. Mr Mitchell expects work to start within a year and the project should be completed by the end of 2008.
The entire scheme will cost around £200,000. The centre will have to raise the balance.
Nun Kelsang Tsalden said: "People are often quite inspired by a project like this and are happy to contribute to it."
The announcement is part of a national grants package worth £17.5million for 153 churches, chapels and other places of worship.
Maddy Jago, English Heritage planning and development director for Yorkshire and the Humber, said: "Most places of worship experience real difficulty in meeting maintenance costs, so these grants will make a huge difference. Being able to undertake timely repairs avoids a much bigger bill further down the road."
Fiona Spiers, Heritage Lottery Fund manager for Yorkshire and the Humber, said: "By focusing on the most urgent repair needs, this scheme supports the efforts of local people and makes a significant difference to the long-term prospects for buildings like Buddhist Centre."