The Dalai Lama begins Germany visit
by Phurbu Thinley, Phayul, July 20, 2007
Dharamsala, India -- Starting yesterday, the exiled Tibetan leader His Holiness the Dalai Lama began a 10-day visit to Germany, where he will deliver a series of lectures and Philosophical talks according to the official website of the Office of His Holiness the Dalai Lama: www.dalailama.com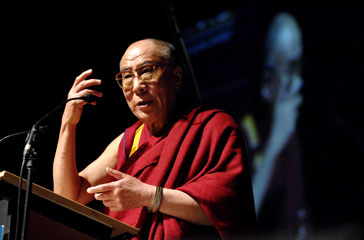 During the visit, His Holiness will take part in the major International Buddhist gathering in Hamburg.
According to media reports, the Tibetan leader arrived by private jet shortly before noon yesterday to a welcome by members of the Tibetan Centre in the north German port.
A reception was planned yesterday afternoon in the town hall where the Dalai Lama was due to sign the city's golden book in the presence of Hamburg Mayor Ole von Beust.
On Friday, His Holiness will preside over as a keynote speaker at the first International Congress on Buddhist Women's Role in the Sangha "Bhikshuni Vinaya and Ordination Lineages" in the University of Hamburg. His Holiness will speak on Human Rights and the Status of Women and will join a panel discussion with leading Buddhist monks, nuns, scholars on the question of full ordination of women in Tibetan Buddhism.
On 21 and 22 July, His Holiness will address the general public on Learning Peace - the Practice of Non-violence and Compassion in a Globalised World respectively.
In the afternoon of 22 July, following an interaction with young students, His Holiness will address them on the importance of Inter-religious Dialogue, which is one of His Holiness' three main commitments in life.
At the request of the Tibetan Centre, Hamburg, His Holiness has consented to give a five-day teaching on the "The 400 verses" (zhi-gyapa) by 2nd Century Indian Buddhist Master, Aryadeva from July 23 to 27 at Rothenbaum Hall in Hamburg.
On the morning of July 27 His Holiness will confer the Manjushri Jenang. The central theme of this Buddhist classic is the path to enlightenment, particularly the concept of interdependence.
His Holiness will conclude his ten-day visit on 28 July with the consecration of a newly built stupa at the Tibet Kailash Haus in Freiburg, followed by a public talk on Secular Ethics and Education at Rothaus Arena Hall.
According to organisers, some 30,000 Buddhists from around the world will come to Hamburg, and Buddhist nuns and monks from Taiwan, Vietnam and Sri Lanka will be among the visitors.
As of now, there has been no speculation whether any of the top German leaders will meet with the Tibetan leader during his 10 days stay in the country.
A survey published by the German news magazine Der Spiegel last week showed that Germans like the Dalai Lama more than they do their native-born Pope Benedict XVI.
The survey conducted by TNS organisation showed that the Dalai Lama enjoyed a particularly high popularity rating among the young and better educated ones.
For more information, on His Holiness' schedule in Germany, visit: www.dalailama-hamburg.de