Restaurant name sparks Buddha row
BBC, July 23, 2007
Durham, UK -- Council officials have asked a chef to change the "provocative" name of his new Chinese restaurant after he called it the Fat Buddha.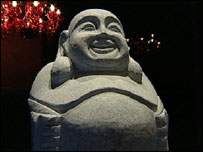 << Mr Fung said fat Buddha's bellies are believed to bring good luck
Durham City Council wrote to co-owner Eddie Fung saying the name was contrary to the city's reputation as "a place of respect for religious beliefs".
But Mr Fung, who is a Buddhist, says the name will stand as no-one has been offended by it.
The council has admitted it was powerless to enforce a name change.
Mr Fung said: "There are many different kinds of Buddha and everybody who has been to see a fat Buddha will rub the belly to bring them good luck.
"Fat in Buddhist terms is healthy and smiley and it is absolutely not disrespectful."

The name runs contrary to this city's reputation as a place of equality and respect
Tracey Ingle, Durham City Council
Investor Bob Senior, of Utopian Leisure, said the firm's original Fat Buddha restaurant, which opened in Belfast in January, had received no complaints about its name.
He said: "We expected that any communication from the council would have been to say thanks for bringing award winning cuisine, £1.5m investment and 60 jobs to Durham."
'Private conversation'
Tracey Ingle, the council's head of cultural services, said she stood by the original comments she had made in the letter.
"I wrote it in response to a private conversation with the managing director of Utopian Leisure.
"From that conversation it was quite clear that he was aware the name could be controversial.
"He sought the council's advice and asked me to put my thoughts in writing."
The letter to the restaurant said: "I have to say, in my view, the name is provocative.
"To use the name of a major religion's deity in your restaurant brand runs contrary to this city's reputation as a place of equality and respect for other's views and religious beliefs."