Peace and Harmony in Kalmykia
By Shaun Walker, Russian Profile, August 1, 2007
Kalmyks and Russians Live Side by Side Despite a Troubled History
ELISTA, Kalmykia (Russia) -- Kalmykia, a flat chunk of steppe adjacent to the North Caucasus and with a Caspian Sea coastline, is by any standards an unusual place. For a start, there's its Rolls-Royce driving, victim-of-alien-abduction-claiming president, Kirsan Ilyumzhinov. Then there's the chess--Ilyumzhinov is president of FIDE, the international chess federation. People are playing chess everywhere--in the schools (compulsory), on the main square of Elista, and in special centers designed for those who excel.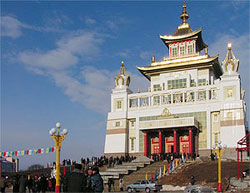 << The Golden Temple in Elista, Kalmykia is the largest Buddhist structure in Europe
But it's also unusual because of its ethnic makeup, for two primary reasons. First, the Kalmyks are the only Buddhist nation to live in the European part of Russia, or indeed anywhere in Europe, and have very different origins from any of their neighbors.
Their ancestors, the Oirats, made the journey to present-day Kalmykia in the early 17th century from what is now the Xinjiang region of China. And while seeing the Mongol faces and Buddhist monuments scattered around quintessentially Soviet towns in Buryatia or Tuva is surreal but geographically comprehensible, in Kalmykia, it's utterly bizarre--a Buddhist, Mongolian people, marooned thousands of miles away from their original homeland.
As one local businessman put it, We're the only Asians here, stuck next to the North Caucasus. We don't share any religion, culture or traditions with any of our neighbors." But despite this, Kalmykia is also noteworthy for the relative harmony between Russians and Kalmyks. While in Tuva, and to some extent Buryatia, deep-felt resentment between the local populations and Russians is always tangible not too far below the surface, in Kalmykia, it's either absent or buried very deep.
"There are more than 90 different nationalities living here," said Yury Amninov, the Kalmyk deputy culture minister with special responsibility for ethnic issues. Although the list he proffers shows that the figure of 90 does include, for example, the fact that four Uighurs, nine Finns, two Afghans and one American live in Kalmykia, it also shows that there are real minority groups in the republic. Ethnic Kalmyks make up just over half the population of nearly 300,000, and ethnic Russians, a little more than one third. Then there are sizeable minorities of Chechens, Ukrainians, Cossacks, Tatars, Avars and Dargins (the latter two native to Dagestan). "All the nationalities get along really well, we don't have any problems at all," said Amninov.
"To say that there are no ethic problems at all is wrong," said Semyon Ateyev, an activist who opposes Ilyumzhinov's rule and is director of the Kalmyk Center for Human Rights. This particularly became a problem with people arriving from the Caucasus--especially Chechnya and Dagestan--during the 1990s. "A huge number of people came from Chechnya and stayed with their relatives," said Ateyev. "They didn't want to adapt to local customs. One fight happened when a group of young Chechens danced the Lezginka on the grave of a soldier who had died in Chechnya."

Actual violence is rare, however, and with the exception of a couple of small clashes in Kalmykia itself and one large-scale fight between Kalmyks and Chechens in a village in the Astrakhan Region in 2005, most disputes are resolved peacefully. It's also pointed out that the long-settled Caucasian communities do not cause any problems. "It's the people who came in the 1990s--the children of war--that caused the problems, on the whole," said Ateyev.
Many of these have now returned to Chechnya and Dagestan. Valery Badmayev, the editor of the opposition paper Sovietskaya Kalmykia, pointed out that the clashes with Caucasians only go to show the strength of relations between Russians and Kalmyks. "In all these clashes, Russians and Kalmyks come together against Caucasians," he said.
The Religious Factor
Several hundred kilometers from Elista is Gorodovikovsk, the regional capital of a flicking tongue of territory belonging to Kalmykia that extends into Stavropol Region. Here, ethnic Russians predominate, and Kalmyks make up just 25 percent of the population. But here also, there seems to be little in the way of ethnic tension. "We haven't had any conflict here at all," said Boris Kavykshev, the deputy head of the regional administration and an ethnic Kalmyk. "There are lot of mixed marriages. We've lived together a long time and we're already used to it."
At the end of June, a ceremony took place to mark the laying of the first stone for a new church. Most churches in the region were destroyed by the Soviets, and since the 1990s Orthodox residents of Gorodovikovsk had been forced to make do with a renovated kindergarten as the only place in town to worship. "I come to church every weekend," said Tatyana, an octogenarian resident of Gorodovikovsk. "There are some Kalmyks who come here too. They have two faiths--Christian and Buddhist. I have lived here all my life, and there have never been any problems, everyone gets on well."

At the ceremony to bless the ground of a new church, which was dedicated to Tsarevich Alexei, the son of Nicholas II who was executed in 1918, Archbishop Zosima (Ostapenko) of Elista and Kalmykia gave a speech shot through with Russian nationalism, but said that he felt the main problem in society was not between Russians and Kalmyks, but between believers and non-believers. "Today, people--Russian people--look at us as if we are some kind of aliens," he said. "They need to understand that the Orthodox Church is the heart of Russia.
The Russian people, the Russian church and the Cossacks are the triangle that makes this country the great and the only repository of true faith in the world." He spoke at length about mysterious "enemies" who are trying to shut the Church out of public life and thus destroy Russia, but made it clear that these enemies did not include the Kalmyks. "Like we remember the Tsarevich, we also remember all the other victims of communism, Orthodox and non Orthodox--like the Kalmyk people, who were deported and killed. The Kalmyks are a great and brave people," he said.
However, he had harsh words for people who accused Russians of being nationalists, and said that people should "never forget that Russians are the cementing nationality in Russia." And as for so-called nationalist killings, he said that "immigrants from the North Caucasus come to Moscow or other parts of Russia, and if one of them gets killed, we have all these tears of pain. But then it turns out that these people behaved themselves very badly, but of course we don't hear about that in the press; they're too busy calling us nationalists and fascists. And, I would say to anyone who calls us nationalists--unlike some other countries, who shall remain nameless, we never made special reservations and put other nationalities there." This seemed a bit of a strange thing to say in Kalmykia, with the history of the deportation, but none of the Kalmyks in the crowd looked particularly offended.

The Kalmyks are traditionally Buddhists, and while the Soviet period destroyed much of the faith among the people and all of the temples--which before the 1920s numbered around 100 in Kalmykia--there has been a Buddhist renaissance in the years since the Soviet collapse. At a height of 63 meters, the new cream and gold temple in central Elista, completed less than two years ago, towers above the small cottages and five-story Khrushchev-era apartment blocks that make up the city.

Inside, most of the monks are Tibetan, although there is a contingent of Kalmyks who are studying in monasteries in India and Tibet right now and should be ready to return to Kalmykia in a few years. On Friday afternoon, prayers are intoned for the dead, and there are at least 200 people in the temple. There are now around 30 temples in Kalmykia, and the building continues, although with most Kalmyks, there is a sense that the Soviet period has wiped out genuine belief in Buddhist tenets and it survives more as a symbol of cultural identity. Among the worshippers there is also a small contingent of curious ethnic Russians.
"In our republic today there is peace, ethnic accord, and everyone lives happily, and I think this is down to our president Kirsan Ilyumzhinov," said Sanal Shavaliyev, editor of Khalmg Unn, a Kalmyk language newspaper friendly to the Ilyumzhinov regime.

Opposition figures were a little more cautious. "Don't believe the propaganda that the peace between Russians and Kalmyks is all down to Kirsan," said Badmayev of Sovietskaya Kalmykia. "It's the people themselves who understand what is at stake and have learned to live together peacefully. They look at Chechnya as a scary lesson--conflict could bring a sea of blood."