Buddhist leader tells of Tibet peace hopes
By Fiona Pendlebury, This Is Dorset, Aug 4, 2007
Bournemouth, UK -- AN ordinary, family-sized house in Bournemouth seems an unlikely place to bump into a world-famous spiritual leader.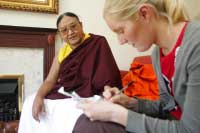 << RAISING AWARENESS: Fiona Pendlebury interviews His Holiness Sakya Trizin, who is visiting the Tibetan Buddhist Centre in Charminster Picture: Corin Messer
His Holiness Sakya Trizin Ngawang Kunga is the head of the Sakya School of Tibetan Buddhism and highly respected by the Dalai Lama.
He is in Bournemouth to give teachings at Bournemouth University and is staying in Throop for the duration of his visit, organised through the Tibetan Buddhist Centre at Charminster.
Like his counterpart the Dalai Lama, he travels the world to spread a message of peace and compassion and raise awareness of the situation in his homeland Tibet.
He took some time out to chat to the Echo about his beliefs, whether Tibet will ever regain its independence and the fate of its religious leaders.
The Chinese have received heavy criticism over their occupation of Tibet and attempts to take control of its religious identity.
advertisement
The candidate identified by the Dalai Lama as the eleventh Panchen Lama was taken away into protective custody by the Chinese authorities and replaced by their own candidate.
Yet Buddhist leaders have always abhorred the use of violence to fight back against Chinese tyranny.
As a religious leader I ask His Holiness Sakya Trizin if he can understand what prompts members of some other religions to use violence to justify their cause.
Is violence ever an acceptable tool with which to defend one's faith or way of life, culture and traditions?
He says: "We feel that violence creates violence and the way to stop violence is through love and compassion and positiveness, so that people can change their attitude and their aims and desires.
"Tibet in many ways is getting better.
"I have not gone back but many of my friends have gone back and we have fairly regular contact, so compared with several years ago it's much better.
"Complete independence may be difficult but we always feel that some sort of solution will be reached."
People rather than the religion itself may to be blame for terrorism acts carried out in the name of religion he says.
"I don't think any religions teach that violence is the way.
"I think the major religions emphasise the importance of increasing loving compassion, peace, forgiveness and tolerance.
"But people do take violent actions in the name of religion."
Is violence ever justified even if someone is attacking you? I ask.
He replies: "As a religious person you move past violence.
"It's difficult to say. The teachings say one should never take violent actions."
And does he have any special insight into the future of the role of the Dalai Lama?
Would a future Dalai Lama be born in another country away from Chinese influence? Or not at all?
The current Dalai Lama has said that he may never be reborn inside territory controlled by the People's Republic of China and occasionally suggested that he may be the last Dalai Lama.
"The Dalai Lama never said he will not incarnate.
"Whether he does depends on the need of the people.
"If the people feel that the Dalai Lama is important and necessary they can always find a new incarnation. If people feel the Dalai Lama is not necessary, he said he could be the last incarnation.
"He never said he will not come.
"It could be in another country but so far up to now it has always been inside Tibet," he says.