New resident monk appointed for the Berlin Vihara
The Buddhist Channel, Aug 7, 2007
Ven. Dhammavijaya Thera leaves for Germany on Dharmaduta work
Colombo, Sri Lanka -- Ven. Wilachchiye Dhammavijaya Thera left for Germany on July 26 to engage in Dharmaduta work as a Resident monk of the Berlin Vihara (also known as Das Buddhistische Haus). Ven. Dhammavijaya's visit is being sponsored by the German Dharmaduta Society, which was founded by Asoka Weeraratna in 1952.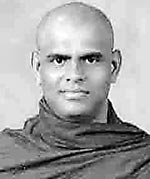 << Ven. Wilachchiye Dhammavijaya Thera
Ven. Dhammavijaya Thera is the Chief Monk of the Sri Sambodhi Bhavana Asapuwa, Kadawatha. He obtained his higher ordination (Upasampada) in 1985. His educational qualifications include the B.A. Honours (Kelaniya), M.A. (Kelaniya) and a Royal Panditha Degree from the Oriental Studies Society, Sri Lanka. He has travelled widely in India, Nepal, Japan, Germany and Austria. Ven. Dhammavijaya Thera is a member of the Ramannya Maha Nikaya. He is a well known preacher and instructor in meditation.
Ven. Dhammavijaya Thera joins two other Sri Lankan monks who are currently resident at the Berlin Vihara, Ven. Dikwelle Seelasumana Thera and Ven. Tammannawe Dhammananda Thera.
Through its Trustees the Berlin Vihara is now owned and maintained by the Colombo based German Dharmaduta Society which purchased the property in 1957 from the heirs of Dr. Paul Dahlke who founded Das Buddhistische Haus in 1924. Since 1957 a stream of Buddhist monks from Sri Lanka and other countries have resided at the Berlin Vihara to propagate the Dhamma in the West.
The German Dharmaduta Society will be commemorating the 50th anniversary of the sending of the first Buddhist Mission to Germany in 1957, through a series of events this year.