Tributes for Buddhist monk killed in lawnmower accident
Milton Keynes Today, Aug 22, 2007
Willen, UK -- View GalleryTributes have flooded in from all over the world after Rev Gyosei Handa the chief monk at the Buddhist Temple at Willen was tragically killed in a lawn mower accident on Tuesday.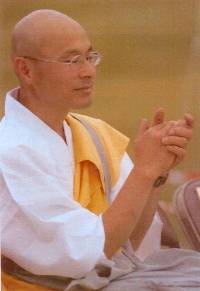 << The Reverend Gyosei Handa. Picture - Doug Blane
The Rev Handa, aged 50, died at about 12.30pm while mowing the grass next to the Peace Pagoda in a tractor. The full details of the accident have not yet emerged.
Rev Handa was responsible for building the Buddhist Temple at Willen, which was completed in 2004. Dedicating his life to campaigning tirelessly for peace, he spent 12 months in the early 1980s walking across Asia to Japan. He known for his campaigning against nuclear weapons.
He was also closely involved with bringing the Peace Pagoda to Milton Keynes, which was the first in the Western Hemisphere.
Rev Sister Yoshie Maruta, the chief nun at the temple who had known him for 30 years, said: "He was a really devoted man. He was never angry at anything. He was really compassionate. He was really dedicated to peace."
Dr Ajit De Silva added: "The one word I would use to describe him would be 'energy'. Where ever there was an peace activity anywhere in the world, from Russia to America, he would be there."
In an online tribute from the Outer Order of Druids (Exmoor], Steve Best - joint head of Order, said that "Handa was a highly respected man, and his work and dedication were truly inspirational. His work here is done, and he leaves a huge legacy."
Sarah Hancock paid her respects by saying that "Handa Shonin was a great man, loved and respected. He gave constant support and strength to myself and my family through recent difficult times. I am eternally grateful to him. He will be deeply missed."
Buddhists from all over the world are due to visit the temple to pay tribute to Rev Handa.