The Dalai Lama visits Portugal
The Resident, 13 September 2007
Lisbon, Portugal -- NOBEL PEACE prize winner and spiritual leader of Tibet, the Dalai lama, who arrived in Lisbon on Thursday, will not receive an official reception from the Portuguese government.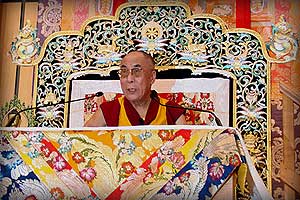 << Tenzin Gyatso, head of the Buddhist faith, is in Portugal for only the second time
The 14th Dalai Lama, Tenzin Gyatso, head of the Buddhist faith, is in Portugal for only the second time and will stay until Sunday, for three days of public teachings and to give a conference at the Pavilhão Atlântico.
It is understood that the lack of an official welcome is in light of recent and future meetings with Chinese government officials.
Ana Paula Vitorino, the Portuguese transport Secretary of State, made an official visit to China on Monday to strengthen the relationship between the two countries in maritime transport.
On the same day, Luís Amado, minister of foreign affairs was questioned in Viana do Castelo, a city in northwestern Portugal, as to whether the government would receive the Dalai Lama.
"Officially the Dalai Lama is not received by representatives of the Portuguese government" said Luís Amado, adding: "Obviously, for reasons that are already known."
Later that day, a spokesman for the Portuguese Prime Minister said: "The Prime Minister cannot meet with the Dalai Lama only because of his full agenda. He leaves for the Ukraine on Thursday and only returns to Portugal for a few hours on Saturday before leaving for the US".
Informal meeting
However, Jaime Gama, President of parliament, was scheduled to meet the Dalai Lama yesterday at 3pm. This is in contrast to the Dalai Lama's first visit to Portugal when the then president of parliament, Almeida Santos did not allow him to enter the government building. An informal meeting was set up instead with the President Jorge Sampaio at the Ancient art museum in Lisbon.
Organisers of the Dalai Lama's visit to Portugal include the Kangyur Rinpoché foundation, Songsten Casa da Cultura do Tibet and the Portuguese Buddhist Union.
They decided to increase the capacity in the Pavilhão Atlântico, where the Tibetan spiritual leader will give a public conference on Sunday to 10,000, because of the large number of tickets sold very early on.
A spokesman for the event said: "It is with great enthusiasm that we view the enormous interest of people wanting to hear the Dalai Lama's words.
"A Nobel Peace Prize winner and figure whose intrinsic spirituality will most certainly touch the hearts of everyone present."
Funds gained from ticket sales for the conference will be used to pay for the Dalai Lama's visit; however the organisers say they are not going to make a profit from the event.
"If the number of participants exceeds expectations then any money left over will be distributed to humanitarian causes by indication of the Dalai Lama himself" said a spokesman.