Vatican, in shift, says Pope won't meet Dalai Lama
By Philip Pullella, Reuters, November 27, 2007
VATICAN CITY -- Pope Benedict has no plans to meet the Dalai Lama next month, the Vatican said on Monday in an about face from a previous position that irked China.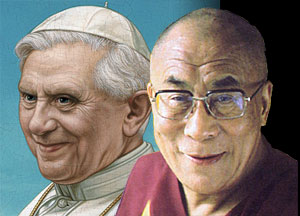 Vatican spokesman Father Federico Lombardi said "no audience is planned" between Benedict and the Dalai Lama and added there had never been an official, written statement of a meeting.
A Vatican official who spoke on condition of anonymity told reporters in late October that the Pope would meet the exiled spiritual leader of Tibetan Buddhism on Dec. 13.
The meeting during the Dalai Lama's visit to Italy, which would have been their second since Benedict's election in 2005, was widely reported in the world media.
Beijing's communist government responded early in November by saying such a meeting would "hurt the feelings of the Chinese people" and urged the Pontiff to take action showing he "is sincere in improving relations".
The Dalai Lama has this year met U.S. President George W. Bush at the White House, as well as the leaders of Austria, Germany, New Zealand, Australia and Canada.
The diplomatic blitz has been met with a stream of vitriol from Chinese officials and state media, calling the 72-year-old a "splittist" bent on independence for Tibet and accusing him of orchestrating anti-Chinese activities in the remote region.
In New Delhi, a Dalai Lama representative said: "His Holiness's objective is to promote inter-religious harmony and he will not create any inconveniences for anybody."
SOME DISAPPOINTED
Father Bernardo Cervellera, head of AsiaNews, a Catholic news agency that specialises in China and earlier this month also reported on the Dec. 13 meeting, said he was disappointed that the encounter would not take place.
"It was clear from the start that Beijing was not happy about this meeting," he told Reuters.
Benedict has made improving ties with Beijing a major goal of his pontificate and issued a 55-page open letter in June saying he sought to restore full diplomatic relations with Beijing that were severed two years after the 1949 Communist takeover.
Catholics in China are split between those who belong to a state-backed Church and an underground Church whose members are loyal to the Vatican.
Relations hit low points several times in recent years as the Vatican criticised China for appointing bishops without papal approval. In May 2006, Benedict accused China of "grave violations of religious freedom".
Relations warmed significantly two months ago when the Vatican approved the installation of a new state-approved Catholic bishop of Beijing.
The Dalai Lama met Benedict last year in a low profile meeting Vatican said was strictly religious in nature.
Benedict's predecessor John Paul met the Dalai Lama a number of times during his 27-year papacy and the Dalai Lama attended a major inter-religious conference hosted by John Paul in 1986.
Italian politicians are divided over whether the Dalai Lama should be allowed to address parliament during his visit.