Buddhist ways to help
By Sami Mokbel, Croydon Guardian, Jan 5, 2005
London, UK -- Buddhists at a South Croydon temple have banded together in a bid to help the survivors of the tsunami in Sri Lanka.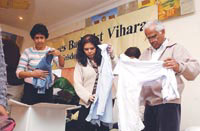 << Donations: Bundles of clothing are being sent over but medical supplies are also urgently needed
Despite losing loved ones during the horrific events in south-east Asia, people attending the Thames Buddhist Vihara in Dulverton Road, South Croydon, are doing all they can to support Sri Lankans affected by the disaster.
The South Croydon temple launched a disaster fund as soon as the news of the earthquake and tidal wave broke on Boxing Day.
The temple has raised in excess of £10,000 in the past 10 days and the amount continues to rise. In addition to the thousands of pounds donated, Croydon Buddhists have given boxes of clothing as well as much needed medical supplies.
Resident monk at the temple, Ven. Medhamkara, has been deeply touched by the support from Buddhists to the fund.
He said: "Buddhism has instilled the values of love, compassion and understanding into its followers. The actions of people at the temple has shown that these values really have been instilled into us and this is something that I appreciate very much."
Ranjit Kodikar, 51, a committee member at the temple, has also been overwhelmed by how committed people are to helping survivors.
He said: "People at the Buddhist temple are doing various things to help the people affected by this tragedy. Everyone is working so hard."
The first shipment of clothing and medical supplies has been transported to Sri Lanka and the next shipment is due to be dispatched today (Wednesday).
While the temple has been inundated with clothing, they are particularly looking for people to donate medical supplies in order to combat the spread of disease which is inevitable after this disaster.
If you would like to make a donation to the Tsunami Disaster Sri Lanka Fund, call the Thames Buddhist Vihara on 020 8657 3776.