Pupil denied enrolment because he is Buddhist
Scarborough Evening News, March 6, 2008
Scarborough, UK -- A FORMER nun is devastated after her son was turned away from Scarborough's only faith secondary school.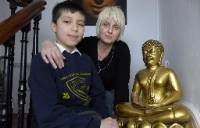 Caroline Brookes, of St Mary's Walk, applied for 10-year-old Soony to attend St Augustine's School in September – only to learn he will be starting Raincliffe School instead.
The Evening News revealed yesterday how St Augustine's was oversubscribed after 155 children applied for its 86 places.
But Soony, a Buddhist, a pupil at St Martin's Church of England School, in Holbeck Hill. Most of his classmates have been accepted into St Augustine's.
Mrs Brookes, who used to work as a Buddhist nun in India, said: "Soony is a Buddhist but lives his life according to the gospel, like Christians do.
"He has been at St Martin's School for two years and we had no problems with getting him there.
"When it came to choosing a secondary school for him the only choice was St Augustine's. We looked around and the headteacher told us this was the right school for Soony.
She added: "I am absolutely devastated. He is being discriminated against because he is a Buddhist but Soony follows the same gospel as the other pupils."
The school has to follow a code of practice when deciding its yearly intake.
Children who are baptised Catholics are given get first priority followed by non-Catholic pupils who are practising members of a Christian denomination. Youngsters who have brothers or sisters at the school also receive priority.
Mrs Brookes said the decision has left her son "destroyed". She added: "Soony is now questioning his identity and saying he no longer wants to be a Buddhist. All his friends are going to St Augustine's so why can't he?"
She intends appealing against the decision, and, if she fails, intends keeping Soony at home rather than send him to Raincliffe.
She said: "Raincliffe is not the right place for Soony. He is used to a small faith school and now he is expected to attend a large non faith school.
"If the appeal does not go our way I will have to look at home teaching."
Headteacher Roger Cannon said: "It is with regret that we were not able to offer Soony a place.
"We understand his family are devout Buddhists and believed this was the right school for Soony. We have to stick to our code of practice here and we had a lot of applicants. I have urged the family to appeal against the allocation."