Human rights could end council prayers
by Raymond Bbrown, Cambridge-news.co.uk, March 14, 2008
Cambridge, UK -- THE tradition of prayers before council meetings faces the axe - under the banner of political correctness.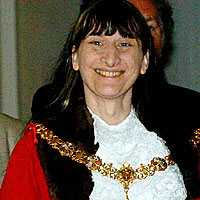 << Cambridge Mayor Jenny Bailey
And Buddhist chants at the start of Cambridge City Council's meetings by a monk could also fall foul of race discrimination and human rights laws.
The ancient custom now hangs in the balance after the National Association of Local Councils (NALC) advised a council to stop the ritual or face the threat of legal action under race or human rights laws.
The organisation represents the interests of about 8,500 town and parish councils in England. Cambridge mayor, Cllr Jenny Bailey is saddened by the move and believes that prayers calm councillors - before heated debates.
She said: "We have a Buddhist chaplain and we have bells and prayers before a meeting which brings an air of serenity and goodwill to each other.
"As a Buddhist, of course I am very happy with that.
"I'd be really interested to listen in on the conversations of people who might be offended by this.
"Cambridge is a multi-cultural city and again it is leading from the front. I don't think it would offend anyone except the fire and brimstone brigade."
Fears that the ban could be imposed were sparked after Bideford town council in Devon was told by the association that councillors and residents could argue that their right to practise any religion may be infringed by Christian prayers before meetings.
An email sent to the council states: "The council should consider removing the saying of prayers to ensure compliance with (the Race Discrimination Act) and to eliminate any risk of challenge under the Human Rights Act."
A spokeswoman for NALC told the News: "This was specific advice given to one council which was confidential.
"I can't comment on whether this will affect other councils. We will have to look at it case by case. We would then advise councils directly."
Cambridge and Peterborough National Association of Local Councils refused to comment. It is understood that Hazel Blears, the Local Government Secretary, is looking at the advice before making the Government's position clear.