Berlin temple to attract Germans to Sri Lanka
By Janaka Perera, Asian Tribune, March 25, 2008
Berlin, Germany -- The Buddhist Vihara at Berlin could play a major role in attracting German Buddhists to Sri Lanka, according to Tourism Deputy Minister Faiz Mustapha. The Deputy Minister told this the Venerable Wilachchiye Dhammavijaya Thera during a visit to the temple this month.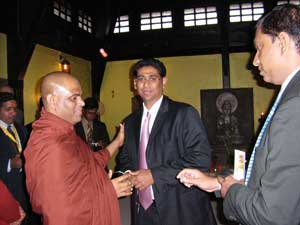 Mr. Mustapha who visited the temple with a ministerial team said that the Vihara could provide Germans with basic knowledge of Buddhist meditation and related topics before sending them to Sri Lanka for further training on the subjects.
Tourism Deputy Minister Faiz Mustapha during a visit to the temple in BerlinTourism Deputy Minister Faiz Mustapha during a visit to the temple in Berlin
The Vihara's Managing Director Tissa Weeraratne also addressed the Sri Lankan visitors and expressed the hope that the Sri Lanka Government could help to meet some of the temple's requirements. The Venerable Dickwelle Seelasumana was among the others present.
The Berlin Vihara (Das Buddhistische Haus or Buddhist House) is a popular site for Buddhists from many countries, tourists, students and different kinds of visitors to whom an extensive monthly programme is offered.
This Sri Lankan-managed temple is one of the few – if not the only – Sinhala Buddhist Viharas in the West which has not been branded by non-Sri Lankans a politicized 'ethnic temple.' Consequently Berlin Vihara has been very successful in attracting Westerners - both Buddhists and non-Buddhists – in large numbers. The temple has set a good example to non-Buddhists by keeping with the teachings of the Buddha and spreading the Dhamma far and wide.
Das Buddhistische Haus was built and owned by the pioneering German Buddhist Dr. Paul Dhalke who died in 1928. In 1957, the German Dharmadutha Society (GDS) of Sri Lanka helped to restore this German Buddhist heritage primarily for the benefit of Germans and other Westerners interested in Buddhism.
Registered in Germany as a voluntary organization, the Vihara has today been declared a German national monument by the District Council of Re-inickendorf - the area in which the Vihara is located.