Swastika runs out of luck in Europe
by RASHMEE Z. AHMED, TIMES NEWS NETWORK, JANUARY 17, 2005
London, UK -- Europe may be forced into considering a continent-wide ban on the swastika, one of the oldest, most globally recognized but also most reviled Sanskrit symbols in the West, in an anguished response to 'party prince' Harry's choice of Nazi uniform, swastika and SS badge as fancy dress.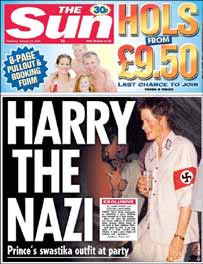 << Prince Harry, "The Nazi" costume party which provoked uproar in Europe
On Sunday, German politicians mooted discussing a ban at the next meeting of justice ministers from the 25 European Union (EU) member states. But Indophiles said it was a sad commentary on the swastika, which is translated from the Sanskrit to mean "it is well", even though Hitler's hijacking made it a symbol of evil.

The swastika is already banned under German law. Its link, since the 1930s, with Hitler and the Nazi Party has turned it into an irresistibly rebellious, underground symbol for white Western supremacists and separatist hate groups across Europe. But Harry's casual use of the symbol prompted senior German politicians to insist it was time all of Europe banned a display of the swastika and Nazi signs because all of Europe suffered from the crimes of the Nazis.

Wolfgang Bosback, vice-president of the Christian Democratic group and Silvana Koch-Merin, vice-president of the Liberal group in the European parliament are quoted to say it would be "logical" for a new ban on the swastika.

Michael Muller, vice-president of the parliament's Social Democratic group, went even further to say that Europe should consider a German-style anti-Nazi law.

German anguish at the British prince's unthinking appropriation of symbols of their shame came amid reports that Harry and his elder brother William were part of a "social scene that thinks racism and bigotry quite funny."

According to a front-page splash in The Independent on Sunday, the boys' father, Prince Charles has been warned by senior aides urgently to separate his sons from an exclusivist set of upper-class young people who see nothing wrong in hosting parties with politically incorrect themes such as 'natives and colonials'.

Harry, who has been seen publicly to step out with a 19-year-old blonde, white Zimbabwean Chelsy Davy, was recently reported to have replied to a question about his girlfriend with the clanger: "She's not black or anything."

On Sunday, the 20-year-old prince was said to be quietly preparing for a private apology and history lesson on the holocaust with Britain's chief rabbi Jonathan Sacks.
Meanwhile, the Jewish leader of Britain's main opposition party Michael Howard stuck to his guns in calling for a personal public apology from Harry for insensitively sporting the swastika and Nazi uniform.

But Indologists said the swastika's bad press flies in the face of its respectability elsewhere in the world. Indians anoint their homes, cows and shrines with the swastika, they pointed out, while Tibetan monks are tattooed with it and the Dalai Lama's throne is always decorated with four swastikas.

There is some historical dispute about how Hitler's Nazi party came to use the symbol, but it is believed a dentist, Dr Friedrich Krohn, designed the classic Nazi swastika in 1919.

Nearly 70 years ago, soon after Hitler won a landslide election and came to o power in Germany, the swastika flag flew side by side with the German national colours. But for the decade from 1935, the swastika flag was the Third Reich's official flag.