Peace and placards greet Dalai Lama in London
By Mario Cacciottolo, BBC News, May 22, 2008
London, UK -- There are certain things one expects to see when attending a public talk by the Dalai Lama. Crowds of people, certainly, peppered by Tibetan flags, as you'd expect.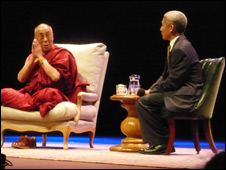 << The Dalai Lama's talk mixed humour with messages of world peace
But also waiting for the Dalai Lama upon his visit to London's Royal Albert hall were not one but two sets of protesters, both with very different issues, united by their common anger with the Tibetan leader.
Accusations of religious intolerance, and claims that he tells lies about his homeland of Tibet were written on large banners, with passionate slogans battering the air from those pressed together on pavements.
But inside this famous venue, its dark red interiors complementing the traditional Buddhist robes, the banners, placards and chanting were a sharp contrast to the tranquillity washing over the audience.
The Dalai Lama is on a 10-day trip to the UK, and this latest speaking engagement on the trip is a sellout.
The event begins with groups of Tibetans young and old demonstrating traditional dance and song from their country, before eventually the 14th Dalai Lama of Tibet shuffles onto the stage, to rapturous applause.
He soaks this up, then sits in a large comfortable armchair. The first thing he does is undo his shoelaces, much to the merriment of the audience.
"Don't worry, I'm not going to meditate in silence," he grins as he pulls his legs up beneath him.
The length of his talk will, he explains, "depend on my mood. If it's going well I will keep talking. If not, I'll cut short".
In the end his talk runs long - he appears on chirpy form, mixing amusing anecdotes with messages about world peace.
"I have always thought that our supporters are not pro-Tibetan. Rather they are pro-justice," he said.
He continues with talk of global responsibility, of how the individual must concern themselves with the worries of other people, that selfishness and greed will only make you unhappy.
Slightly bizarrely, he whips out a kind of croupier's visor - like a baseball cap, only with the top missing - to protect his eyes from the lights. Its red shade matches his robes perfectly.
Once the laughter at this prop dies down, he carries on. He explains, with the thump of a hand on a knee, how he is not calling for Tibetan independence from China, citing the many benefits that the nation of his birth receives from its current ruler.
"What we want is meaningful autonomy, to protect our Tibetan culture."
He also delivers simple yet powerful messages. "Really, inner peace ultimately depends on your own mental attitude.
"A happy life, a peaceful life is very much related, ultimately, with affection."
As the Dalai Lama speaks there is a Tibetan sat next to him, whose unwavering gaze literally never leaves the holy man's face.
This gentleman is a kind of translator, although he only ever chips in with the odd word and mostly whispers more complex terminology for His Holiness to repeat, such as "comprehensive perspective" and "global responsibility".
The Dalai Lama adds: "The 20th Century was one of war and bloodshed. Let us make the 21st Century the century of dialogue. Then there will be a real possibility of peace."
'Uplifting' speech
Soon the talk is over, and he left the stage much as he entered - smiling, waving, to deafening approval.
Deep in the bowels of the hall, waiting in a corridor was Nicki Fisher, 37, from Bermondsey, London, fresh from hearing the Dalai Lama's words.
A Chinese man holding a sign
There were many Chinese protesters who were unhappy with the Dalai Lama
"It was one of the most uplifting things I've ever done. He's got so much humility. Imagine if someone like him was the president of the United States."
That scenario may appeal to some, but to those still shouting outside, the Dalai Lama is not to be trusted.
Squeezed between placard was a young woman, Cathy Lin, 22. When asked if this were a pro-Tibet protest, she replied that it was in fact "anti-Dalai Lama".
She said: "We just want Tibet and China to be together, not independent. I've been to Tibet, I've seen how well the Tibetans and Chinese there live with each other."
When asked what she thinks to the Dalai Lama, her face clearly sours with contempt, but she gives a more restrained reply.
"As a Lama, he should be praying for the victims of the earthquake in China. He should put down everything to pray for them. But he's like an actor, going around the world to talk about independence for Tibet."
Directly opposite, on the other side of the road, are a group of Buddhist monks whose argument is that the Dalai Lama has called for a ban on the worship of the Buddhist deity Dorje Shugden, and particularly a prayer to him.
The arguments are complicated, but basically His Holiness says that this particular deity is un-Buddhist in its nature.
These followers disagree, and according to Kelsang Perma, a nun taking part in the protest, what they want is a "meaningful discussion" with the Dalai Lama.
"The only purpose of Dorje Shugden is to help people develop Buddhist minds of love, peace and compassion," she said.
"We've sent him faxes, email and letters asking him to talk to us about it but they're all ignored. The Dalai Lama himself practised as we do until he was 50."
But even the protesters were being protested against. There are a group of Tibetan men nearby, shouting and jeering at the monks, some of whom wave back mockingly.
"This demonstration isn't damaging for the Dalai Lama, but it's damaging for Tibet because it detracts from the argument over our independence," said 30-year-old Bino Tulku, a Tibetan from India who now teaches in Oxford.
The Dalai Lama's hopes for the new century are clearly not yet going to plan.