Buddhist bid to buy church
by ANTHONY CARROLL, EDP24, 29 August 2008
Norfolk, UK -- When is a church not a church? When it is a Buddhist retreat. Although that may sound an odd joke it is in fact a heated debate centred around Buddhists and the ruins of an 800-year-old Norfolk church that is up for sale for one pound.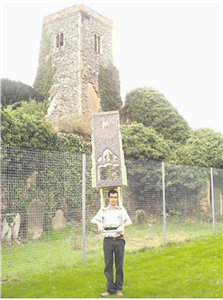 << Buddhist Marco Silva will be walking with a replica or the ruins on his head to publicise his case
The burnt-out remains of St Margaret's Church, in Hopton, near Yarmouth, have been offered to the village's parish council for a quid by the Church of England.
However, the council's bid to open up the fenced-off site to the public and turn part of it into a community facility now has a rival plan - from Buddhists who want to create a peaceful religious haven there instead.
Marco Silva, from the St Michael Project, wants to build a £1m Buddhist retreat offering meditation and spiritual healing to followers of the religion and anyone interested in the eastern philosophy.
But because of a religious clause the Buddhists' scheme to build a monolithic dome by the ruins appears to have hit the buffers.
The EDP understands that the church deal with Hopton Parish Council means that no religious facility rivalling the Church of England can be set up there.
And parish councillors have also voiced their opposition to the ambitious retreat plans.
Mr Silva has set his sights firmly on St Margaret's as he also wants to recreate ancient scenes of pilgrims travelling from Cornwall along ancient ley lines to Hopton during the summer and winter solstices.
He said: "The church is very special because of its ley lines. I think something like the retreat should be there instead of what is planned to go there.
"Our project will benefit the whole area by treating many people for stress, pain and addiction."
Mr Silva, who moved to Norfolk from Portugal five years ago, said the retreat was needed as there were few Buddhist sites in Norfolk.
If the go-ahead is given the St Michael Project hopes to secure National Lottery funding to build the non-profit making retreat.
To highlight his retreat plans Mr Silva will start walking along the Wherryman's Way today from Hopton to Norwich with a replica of the ruins on his head.
The grade II listed church was built in 1189 and was destroyed by fire in 1856.
Hopton Parish Council has agreed in principal to buy the ruins for the nominal fee of £1 but will have to raise £300,000 to make it safe so visitors can use new community and recreational facilities.
Councillor Brian Howard said: "The St Michael Project seems more interested in these spiritual ley lines than the religious aspect of the church.
"They would never get planning permission and I cannot see the council or anybody else supporting their plans to purchase the site."