Enraptured by Buddha
by CHOI TUCK WO, The Star, May 17, 2009
London, UK -- Tis' the season for chilling cliff-hangers, demons, ghouls and mutants. But while movie-goers were engrossed with all those good-versus-evil battles on the silver screen, a different audience was captivated by an awe-inspiring story of a prince's birth, just a stone's throw away.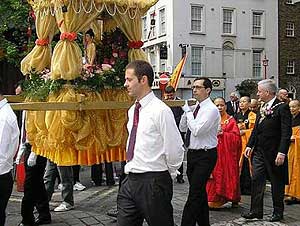 << Colourful parade: Volunteers carrying little Buddha's statue in a sedan chair, followed by Ven Chueh Ru, Westminster Deputy Lord Mayor Alexander Nicholl (both in ceremonial garb) and senior monks and officials in a parade through London's Leicester Square and Chinatown. — The Star/Choi Tuck Wo
TOM Hanks' larger-than-life movie posters appear to have cast an ominous shadow across London these days.
Welcome to the surreal world of Angels & Demons – this summer's controversial blockbuster that has been hyped in the media as one hell of a film.
Yes, tis' the season for chilling cliff-hangers, demons, ghouls, and mutants. And movie buffs have never had it so good.
At Leicester Square, giant billboards showing images of a fantasy-winged angel and a menacing-looking demon loom over West End's madding crowd.
But while movie-goers were engrossed with all those good-versus-evil battles on the silver screen, a different audience was captivated by an awe-inspiring story of a prince's birth, just a stone's throw away.
Although tales of Lord Buddha's life have been retold countless times over the centuries, the moral behind them is seen as being relevant today as they were over 2,500 years ago.
And so it was that Buddha's Birthday Celebration – known as Wesak Day in Malaysia – unfolded last weekend amid the lush greenery of Leicester Square Gardens.
From a colourful parade and a Buddha Bathing ceremony to folk songs and therapeutic dances, the activities drew a large crowd of devotees and the public alike.
Soothing hymns filled the air as the queue spilled outside the tent where the bathing ritual, symbolising the cleansing of one's unwholesome deeds and purification of the mind, was held.
Organised by London Fo Guang Shan Temple (www.londonfgs.org.uk) since 1994, the festival has grown to become the biggest outdoor Buddhist event in Britain.
Inter-faith dialogues
Temple abbess Venerable Chueh Ru Shih drove home the message of leading a simple life, especially during these economically challenging times.
"We must be satisfied with what we have and be thankful for small mercies," she said, referring to problems linked to a materialistic lifestyle.
Ven Chueh, from Bukit Pelanduk, Negri Sembilan, also spoke about her master's advice to treat people compassionately by practising the three good movements.
"Practise good deeds, speak praiseworthy words and have good intentions," she said of the message by Ven Master Hsing Yun, founder of Fo Guang Shan Monastery in Taiwan.
Indeed, fostering good relationships with people is of paramount importance, particularly in a city as culturally, linguistically and ethnically diverse as London.
Since taking over as temple abbess one-and-a-half years ago, Ven Chueh has organised inter-faith dialogues and various activities to promote greater understanding and appreciation of each other's religions.
"I realise that despite their hectic lifestyles, the devotees still find time to attend our spiritual activities where they can find peace of mind. We advise them to use Buddha's teachings to help solve their daily problems," said Ven Chueh, who is also deputy chief abbess of Fo Guang Shan in Europe and the UK.
Located near London's Chinatown, the temple is popular not just with Malaysian devotees but also those from Singapore, Hong Kong, China and Vietnam.
Herculean task
The event was also graced by senior monks and several VIPs, including Westminster Deputy Lord Mayor Alexander Nicoll, while Westminster Inter-Faith director Jon Dal Din read a message on behalf of the Vatican.
Among others, the message highlighted the strengthening of the bonds of friendship and creating new ones between Catholics and Buddhists through the annual festival.
Nicoll spoke on the significance of Buddha's teachings being universally applicable, parti­cularly during these troubled times.
Ven Ajahn Khemadhammo Mahathera, Abbot of the Forest Hermitage & Angulimala, called for the creation of what he called a Buddhist powerhouse in the heart of the city.
"Wouldn't it be great if we can take over the Battersea Powerhouse (which at one time powered London with electricity) and turn it into a Buddhist powerhouse?" he said to loud applause.
He had earlier expressed sadness that the wonderful spectacle of tents, flowers and Buddha's image would have gone after a few days and the place transformed back to Leicester Square.
"So, I began to dream a dream. It makes me think: Wouldn't it be wonderful to have a more permanent public expression of Buddha's words here in the heart of this great city?" he said.
He also drew attention that Buddha's teachings had declined somewhat since it had been a long time since his birth, enlightenment and passing away.
"As Buddhism takes hold and becomes more popular in the West, variations on the discipline and teachings have crept in," he said, adding that some of them had watered down the Buddha's message.
Calling on devotees to resist this, he said the celebration had made them more determined to practise the teachings and to make them a veritable powerhouse.
Despite a drop in London's property prices, it would still require a herculean task to raise sufficient funds and build such a spiritual powerhouse.
Then again, dreams do come true. And it might materialise one day if everyone were to put a little bit more effort into it.