Russian Buddhists hope Dalai Lama will be allowed to visit Russia in 2010
Interfax, 5 April 2010
Moscow, Russia -- Russian Buddhists are hoping that the Russian Foreign Ministry will give the 14th Dalai Lama permission to come to Russia.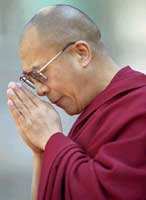 "Millions of Russian Buddhists are looking forward to the Dalai Lama's visit and a decision should be made on this matter," Mikhail Kapura, who represents the Republic of Kalmykia in the Federation Council, told Interfax.
The senators representing Russia's Buddhist regions sent a letter to Russian Foreign Minister Sergey Lavrov last week asking about the possibility of issuing a Russian visa to the Dalai Lama.
"We are talking about a pastoral visit, and His Holiness the Dalai Lama would like to visit Kalmykia, Buryatia, and Tuva, where Buddhists traditionally live," Kapura said.
Kapura recalled that the last time the Dalai Lama visited Russia was in 2004. "People in Kalmykia still remember this visit," he said.
At the same time, the problem with the Dalai Lama's visit is the position taken by China, which is one of Russia's main partners in politics and economics. "Beijing's position on the Dalai Lama's visit is very tough and clear, and it is obvious that Russia cannot help but take this into account," Kapura said.
Kapura said there are objective problems with the Dalai Lama's visit at this time. "Obviously, we will have to wait. However, as far as we see from meetings in the Foreign Ministry, there is hope for such a visit in Russia, and that's an obvious fact that we cannot help but be happy about," the senator said.
The Chinese partners have set several conditions for the Dalai Lama's visit, including a resolution on the differences that currently exist between China and the Dalai Lama and on the issue of status of Tibet, he said. "Beijing is hoping for constructive communication with the Dalai Lama's supporters, and in that case Beijing is ready to consider the issue of a visit to Russia," Kapura said.
The recent visit by the Dalai Lama to the U.S. drew a very tough reaction from Beijing, he said.
Nevertheless, the people of Kalmykia are still hoping to see the Dalai Lama this year, Kapura said.