Monk builds extension to Southern France monastery
By Losang Tendar, The Buddhist Channel, March 22, 2005
Paris, France -- He has been a monk for 12 years, embracing the spiritual teachings of the Tibetan Buddhist tradition. While he spent most of his time studying holy scriptures and meditating, 34 years old Venerable Jean-François is also involved in the construction of a new building at the Nalanda monastery. After eight years working and being responsible for planning, coordinating, galvanizing volunteers and doing fundraising, this massive project (1100 m²) is expected to be completed by the year end.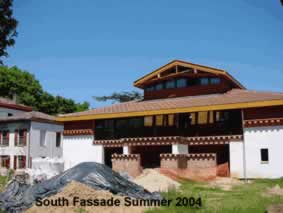 Nalanda Monastery, which belongs to the Tibetan Buddhist (Gelug) tradition is located in the south west of France. It has been there since 1982. His Holiness the Dalai Lama visited the monastery twice. In 1996, Lama Zopa Rinpoche gave Jean Francois a picture of Milarepa, who was said to have built and then dismantled four towers as instructed by his teacher Marpa. The Dalai Lama at the time requested Jean François to make plans for a new building. Before doing that however, he was asked to learn up some Feng Shui.
Plans were afoot in 1995 to replace an old building to make way for a new one. Educated as an architect and designer, Jean François created an original design sprinkled with Eastern influences inter-locking it with a fresh Western outlook. In 1998 His Holiness Sakya Trinzin blessed the ground and in 1999 the ground breaking ceremony was held. Contributions were raised both from the West and in Asia, particularly from Taiwan. The laying of the foundation started soon after but due to obstacles with insurance and administration the building only began to take shape in 2000. The works were done initially by monks but more lay volunteers chipped in later on. By 2002 the roof of the building was completed.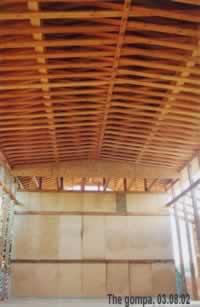 The gompa - the meditation hall where pujas, teachings and group meditation are held - is situated in the middle of the building. The reception hall, dining room and the library are also located adjacent to the gompa. Other facilities in the monastery include an office, a kitchen, and 16 retreat rooms including two for handicapped or sick monks.
?One thing that I discovered during the process of designing the building and construction is the use of natural materials. The use of wood, compressed mud bricks made with our own earth and other natural materials contributed to establish a nice, warm and natural interior feel,? Jean said. He is also in the process of trying to generate energy from the sun and find ecological solutions in the use of water, making Nalanda a self sustainable and environmentally friendly monastery.
Various sutras have said that of all causal phenomena, building a monastery is one of the most virtuous activities. Jean François said that Lama Zopa Rinpoche once visited Nalanda and quoted different sutras stating that building a monastery by itself is very virtuous. ?During the years of constructions, I have seen many volunteers come and go. Some became Buddhist while others left to become a better human being. What is satisfying is that I could see many became purified in their actions. Their participation itself created a lot of virtue for themselves,? Jean said. ?You can study the Madhyamaka - which is great, or meditate a lot ? which is necessary, but the mind can still be very egocentric. You can say that being involved in building this monastery is a path of enlightenment for myself and many of us here?, he adds.
When asked whether his construction work has impeded his spiritual focus, Jean said, ?I became a monk by choice, and did not think that it will involve the construction of a monastery. But while I?m at it, this has not stopped me from studying or meditating. I knew that if no other one were to start on the extension of the monastery, nothing will get done.? He further adds that while the project needed a break some of the time due to lack of finances, he never doubted that it could be completed. ?Fulfilling the wishes of Lama Yeshe and Lama Zopa Rinpoche influences my practice a lot,? comments the hardworking lama.
Depending on available finances, the new building is certain to ready by the end of the year or the latest beginning of 2006. ?The altar we are building at this moment will be fantastic. It will include 1,000 gold painted Buddha Shakyamuni statues which are made in our workshop,? enthused Jean.
Nalanda Monastery is one of the very few Buddhist Monasteries based in Western Europe. The hard work put in by Jean-François and his spiritual followers is a preparation for the future, to meet the increasing popularity of Buddhism in the West. It is also meant to cater for those who wish to have a taste of the monastic life. Those who want to partake in traditional Buddhist practices, such as being involved in studies and practices for spiritual progress, or to learn to simply become a better human being, Nalanda will be able to provide such a conducive environment.
Nalanda monastery hopes to organize its their first pre-ordination course in 2006 by cooperating with the Institute of Vajra Yogini, one of the larger Buddhist centres for lay people in France. The course is expected to be led by qualified Tibetan and Western teachers.
For more information on how to make financial contribution and the work in progress of this monastery, please visit http://www.nalanda-monastery.org.
You can make your donation by sending a bank draft in Euro to:
Monastére Nalanda
Rouzegas 81500 Labastide St-Georges
France.