No visa for Dalai Lama, says Russian Envoy
By Tenzin Tsering, Phayul, June 16, 2010
Dharamsala, India -- Taking a U-turn from his reported affirmation of Dalai Lama's visit to Russia, Russian ambassador to India, Alexandr Kadakin has assured China that the Tibetan leader will not be granted visa.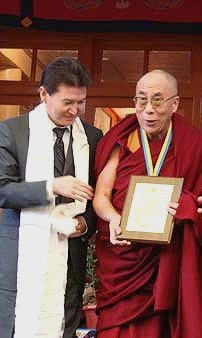 << Kalmyk President Mr. Kirsan Nikolayevich Ilyumzhinov presents His Holiness the Dalai Lama with White Lotus Order, the Russian Republic of Kalmykia's highest civilian honour, in Dharamsala on December 10, 2006 (Phayul/file)
Kadakin was earlier reported as saying that the Dalai Lama will visit Russia as a religious leader and that Russia has many citizens who follow Buddhism. "There are Buddhists in Altai region, in the Altai Mountains. We have great followers of Buddhists in Russia and they also want to see their spiritual leader," Kadakin was quoted by ANI.
However in an interesting turn of events that started with Russian foreign minister Sergey Lavrov offering Russia's help in assisting towards successful dialogue process between Chinese and the Tibetan sides last month, and then to the alleged acknowledgment of Dalai Lama's visit to Russia by Kadakin on June 4, the Russian ambassador recently met with this Chinese counterparts in Delhi and described his earlier affirmation of Dalai Lama's visit to Russia a "mistake" in the transcript of his interview that was sent to an Indian media agency.
In his interview to Voice of Russia, Kadakin explained the "mistake" in his earlier interview on June 4 as the cause of the confusion and clarified Russia's position on Dalai Lama saying "under the present circumstances, Russia can not give a visa to the Dalai Lama because his pastoral functions have acquired a political tinge." He added that "Russia treasures strategic partnership with China and has no intention of damaging it. For this reason, Russia's advice for the Dalai Lama is to improve relations with Beijing and stay away from politics. For now, a visit by the Dalai Lama and his visa is out of the question."
Russian foreign minister Lavrov had recently made remarks on the Dalai Lama that earned him appraisal from the Chinese side. In particular his address to the Federation Council, Russia's Upper house of parliament he reportedly called the Dalai Lama a symbol of "Tibet independence" and added that "Beijing has well-founded reasons for saying it will not have contact with the Dalai Lama as long as he makes provocative statements and engages in political activities."
Dalai Lama has visited Russia several times, the last being in 2004 when he went to Kalmykia to consecrate a site for a Buddhist temple. The spiritual leader was awarded the "White Lotus Order", the Russian Republic of Kalmykia's highest civilian honour by Kalmyk President Mr. Kirsan Nikolayevich llyumzhinov in 2006, in Dharamsala. But since 2007, Russia has not allowed the Tibetan leader to visit the country.
In April, Russian senators representing Russia's Buddhist regions in the parliament sent a letter to Russian Foreign Minister Sergey Lavrov asking about the possibility of issuing a Russian visa to the Dalai Lama.
Russia has nearly one million Buddhists in its three regions of Kalmykia, Buryatia and Tuva representing around 0.5 percentage of the Russian population.
Beijing accuses the Tibetan leader, who won the 1989 Nobel Peace Prize of trying to "split the motherland" and calls him a "separatist," an allegation the Tibetan leader however denies saying he seeks a genuine autonomy for Tibet consisting of the three traditional provinces of Tibet.