Dalai Lama hails Poland's Solidarity 30 years on
AFP, Sept 22, 2010
WROCLAW, Poland -- Tibet's exiled spiritual leader the Dalai Lama hailed Poland's 1980s freedom fighting Solidarity movement Wednesday as the trade union that peacefully toppled the Polish communist party turns 30.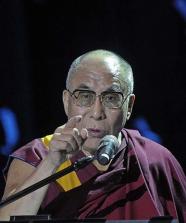 "Spiritually, emotionally I was involved with your Solidarity movement," the Dalai Lama told an audience of 6,000 in Wroclaw, southwest Poland, at a lecture marking three decades since the rise of Solidarity, the first free trade union in the entire Soviet bloc.
"I think in terms of global change in this part of the world, Solidarity definitely made change, including the Soviet Union -- it really made an important impact," said the 75-year-old Tibetan Buddhist leader who has been living in exile for the last 51 years after communist China's 1950 invasion of his Himalayan homeland.
Wroclaw Mayor Rafal Dutkiewicz presented the Dalai Lama with a white flag emblazoned with the characteristic red Solidarity logo and a Tibetan flag in a sports hall filled to the brim with guests.
Solidarity union activists later decorated the Dalai Lama -- who also underscored the importance of global support for the right of Tibetans living in Tibet to cultural freedom -- with a "Solidarity forever" medal.
"The worldwide support shown for Tibet, I think there is no doubt that that impacts our Chinese brothers and sisters. It's not an immediate sort of change or impact, but gradually strengthened," he said, while stressing he had "no ambition" for Tibetan independence from communist China.
Beijing accuses him of inciting unrest with a hidden pro-independence agenda.
"It is human nature that from childhood we want freedom. God creates all human being with the same nature, so the desire for freedom. So, the suppression of freedom with certain ideology it is only temporary. You cannot suppress a basic human desire," the Dalai Lama said.
"The basic human desire for freedom, no force can stop that," he added. Historians see Poland's Solidarity movement as having been instrumental in bringing down communism in Europe.
After an unprecedented two-week-long strike at the Lenin Shipyards in the Baltic Sea port of Gdansk, Poland's communist regime signed an agreement on August 31, 1980 with strikers led by shipyard electrician Lech Walesa that paved the way for the creation of Solidarnosc (Solidarity).
After recovering from the communist party's martial law crackdown on the union in 1981, Solidarity went on to negotiate in 1989 a peaceful end to communism in Poland, making the country the first to escape Moscow's grip.
By 1991, the Soviet Union crumbled and the bi-polar world of the Cold War became a thing of the past.