Spread of Buddhism in Germany
by Senaka Weeraratna, Lanka Daily News, Nov 15, 2010
Colombo, Sri Lanka -- On February 20, 1953, Asoka Weeraratna (Founder and Secretary, Lanka Dhammaduta Society) left Sri Lanka for West Germany. He was requested by this newly formed Society (later re-named in 1957 as the German Dharmaduta Society) to survey and report on the state of Buddhism in Germany and the ways and means that should be adopted to establish the Sambuddha Sasana in Germany. He was also urged to convey the goodwill of the Society to the Buddhists of Germany.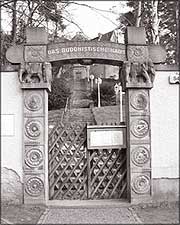 << Berlin Vihara. Pic. Courtesy: Google
Among those who arrived at the Ratmalana Airport to bid Asoka 'farewell' on the trip were a number of Buddhist monks including Ven Pandit Akuretiye Amarawansa Thera and Ven Nyanaponika Thera. The latter handed over a Buddha Statue and Ola-Leaf Manuscript to Asoka to be given as tokens of goodwill and appreciation from the Lanka Dhammaduta Society to German Buddhist Societies.
On this trip Asoka travelled widely all over Germany, meeting leaders of Buddhist organizations in various German cities and enlisting their support for the cause of establishing the Buddha Sasana in Germany. He was also asked to inspect a suitable site for a Buddhist Centre and Vihara and a settlement for lay Buddhists and Upasakas.
Lanka Dhammaduta Society
Asoka visited a series of German cities and towns i.e. Hamburg, Munich, Berlin, Stuttgart, Bremen, Frankfurt, Bonn, Cologne among others. In Hamburg, he met Dr Helmut Palmie, President of the Hamburg Buddhist Society. Dr Palmie was a Pali Scholar and an ardent Buddhist. Dr Palmie convened a special meeting of the Hamburg Buddhist Society on March 10 1953, on the occasion of Asoka's visit. About 200 German Buddhists attended the meeting. Asoka presented an Ola-leaf book on the Buddha Dhamma to Dr Palmie as a token of good will from the Lanka Dhammaduta Society.
In Munich, Asoka met Dr Von Meng, the President of the Munich Buddhist Society and attended a meeting of this Society. Asoka presented a small Buddha statue to Dr Von Meng. This Society published a monthly journal devoted to the propagation of Buddhism called Indische Welt (or Indian World).
In Berlin, there were two Buddhist Societies in 1953. One was called 'Gessellschaft Fur Freunde Des Buddhismus' or 'Society of the Friends of Buddhism'. Herr F Knobloch led this Society. The other Society was called 'Buddhistische Gemeinde'. Herr Lionel Stutzer was the head of this Society. Asoka attended a meeting of this Society held at Stutzer's house. In Berlin, Asoka also met Dr K Schmidt, a Pali Scholar and lecturer on Buddhism.
Buddhist libraries
In Stuttgart, Asoka called on Georg Krauskopf, the leader of the Buddhist Group and brother of the late Ven Nyanasiri Thera of Polgasduwa Island Hermitage, Dodanduwa. Krauskopf was the author of a popular work on Buddhism called Die Heilslehre Des Buddha. Mr and Mrs Ankenbrand were two other prominent Buddhists that Asoka met in Stuttgart. They were extremely devout and well read. They had one of the largest Buddhist libraries that Asoka had seen in Germany.
In Bremen, Asoka Weeraratna met Severloh Mohr at the latter's house in Hemelingen Bahnhofstr. 10. Severloh Mohr had led the life of a Bhikkhu for sometime in Siam (now called 'Thailand'). In Germany, though Mohr was mostly dressed in a layman's attire, he was living the life of a monk. Mohr's house had a fine Buddhist shrine that appeared like the inside of a Buddhist Temple. The King of Siam had gifted one image of the Buddha in Mohr's house to him. Mohr conducted classes on Buddhism in his house.
On his return to Sri Lanka in early May 1953, Asoka Weeraratna prepared a report under the heading Buddhism in Germany giving his impressions of his visit to Germany and the details of his meetings with German Buddhists. This report was subsequently published by the Society in both English and Sinhala and thousands of copies were distributed to the public all over the country.
German Outlook on Buddhism
In this report, Asoka Weeraratna says:
"The general outlook of Germans has greatly changed after the war. The bitter experiences of two great wars have taught them but one lesson, that "All conditioned things are impermanent". If you stop to ask about the past war, a German would have nothing else to add but the words 'Alles kaput ', which mean 'All destroyed'. Buddhism with its elucidation of the Four Noble Truths and the Three Signs of 'Impermanence, Suffering and Soul-lessness' as the characteristic feature of all things, has appeared to them as the most perfect teaching ever made known to mankind'.
Public Meeting at Ananda College, Colombo on May 30, 1953
The main purpose of this meeting was to make public the findings of the survey carried out by Asoka Weeraratna on the current state of Buddhist activities in Germany and the prospects for a Buddhist Mission to Germany before the Buddha Jayanthi celebrations in 1956 and to embark on a membership drive.
Dr C W W Kannangara, Local Government Minister presided at the meeting, which was largely attended and comprised a very representative gathering of leading Buddhists.
Ven Baddegama Piyaratana Maha Nayake Thera, Principal of Vidyodaya Pirivena administered Pansil.
Asoka Weeraratna in welcoming those present explained the object of the meeting and presented a detailed account of his survey of the present state of Buddhism in Germany made during his recent visit. He pointed out the importance of Germany and the unique contribution it has made towards the enrichment of European thought, culture and science. He stated that Germany was the pulse of the European continent and that the largest number of Theravada Buddhists of Europe was at present found in Germany.
At the end of Asoka's detailed presentation, C W W Kannangara moved the following Motion:
"This House is of the opinion that the public of Ceylon should fully support the efforts of the Lanka Dhammaduta Society for the establishment of the Sambuddhasasana in Germany and propagate Buddhism in Europe".
Ven Pandit D Revata Thera seconded the Motion, which was unanimously adopted by the House.
Next, C D A Gunawardena moved the following Motion:
"This House is of the opinion that the Lanka Dhammaduta Society should take immediate steps to send a Buddhist Mission to Germany before 1956 in order to commemorate the 2500th year of the birth of the Buddha and further that the Society should take immediate steps to establish a permanent Buddhist Centre in Germany comprising a Vihara, Preaching Hall, Library and Settlement for Upasakas".
Ven Pandit Akuretiye Amarawansa Thera seconded the Motion, which was unanimously adopted by the House.
Ven Baddegama Piyaratana Maha Nayake Thera, Vidyodaya Pirivena principal, Ven Kirivattuduwa Pannasara Nayaka Thera, Vidyalankara Pirivena principal, Ven Nyanatiloka Maha Thera (the German monk) and Mudaliyar P D Ratnatunga and H L Caldera all spoke in support of the work of the Society and the great importance of sending a Buddhist Mission to Germany before the Buddha Jayanthi celebrations in BE 2,500 (1956 AD).
Ven Balangoda Ananda Maitreya Maha Thera added that one of the greatest services that one can do to the Sasana is to help the Society to establish the Buddhist Dispensation in Europe with Germany as its centre.
Buddha Jayanthi
C W W Kannangara, Local Government Minister speaking from the Chair said that he had known the Secretary of the Society, Asoka Weeraratna from his boyhood and that he could vouch for his integrity. The Minister added that the Society was going to serve one of the greatest causes of Buddhism launched after the Great Emperor Asoka of India.
Ven Nyanatiloka's message;
He therefore urged that all Buddhists should back the Society in every way in order to help it to establish the Buddhasasana firmly in Germany before the Buddha Jayanthi of 1956.'
An inspiring message from Ven Nayantiloka Maha Thera was tabled at the Meeting. It reads as follows:
"It was just 50 years ago in 1903, that I came first to this island which, since then, I have considered my spiritual home and I am therefore happy to be now a citizen of Sri Lanka. Yet, it will be understood that it was the great wish of my heart to give the country of my origin the best I possessed, i.e. the Dhamma. And to that end I have devoted the greatest part of my 50 years in the Sangha. I did so in the firm conviction that the Dhamma will take root in my home country, Germany and may have a great future there.

Now it has been a very great pleasure to me to hear that Weeraratna returned from Germany with the very same conviction, and was able to report on lively Buddhist activities there. I believe that the chances for Buddhist mission work in Germany are now greater than ever before. I am therefore very happy that the Lanka Dharmadutha Society has undertaken that great task of sending a well-prepared mission to Germany and to support Buddhist work there, in general.

I greatly appreciate the initial work done by the Society up to now, and particularly the sacrificing labour, devotion and energy shown by the Founder and Secretary of the Lanka Dharmadutha Society, Asoka Weeraratna. I should, indeed, regard it as a happy culmination of my life if Vesak 1956, i.e. the year 2500, will see a well - established mission in Germany, which will not fail to have a far-reaching influence on the other Western countries, too. I wish the Society full success in their great and noble enterprise. Selfless effort to give the Dhamma to those who are most in need of it will be of great blessing to those who give and receive".
Nyanatiloka (May 25, 1953)
The writer is the German Dharmaduta Society Secretary
The Buddhist Channel - Donate to Support Our Work
An Appeal

In deep gratitude for your support! We are half way to meeting our target (US$ 10,400 of US$ 18,000 already achieved)!
The Buddhist Channel is a dedicated group of "mindful communication practitioners" striving to make a positive impact on the Buddhist community. We deeply believe in the power of mindful journalism and are reaching out to you with a heartfelt request for your support. Your donation, no matter the size, can make a tangible difference in the lives of countless Buddhist monastics, local communities and other dedicated engaged workers. With your help, we make their stories known, and thereby opening up avenues for them to obtain sustainable support for their work.
Please indicate whether your support will be a donation or a loan. We will get back to you via email. We thank you in advance for providing us financial relieve. May the Buddha Dharma ever be your guide and protector.

Note: To date, we have received the following:

US$ 900 from Esa Myllykoski (donation)
US$ 9,500 from Lance Edwards/Kau Soo Kin (loan)

We express our deep gratitude for the support and generosity.
If you have any enquiries, please write to: editor@buddhistchannel.tv