Buddha statues blown up by Taleban may be put back together
by RAHIM FAIEZ, The Scotsman, Aug 7, 2006
BAMIYAN, Afghanistan -- Five years after the Taleban blew them up, Afghan labourers are picking up the pieces of two once-towering Buddha statues, hoping they will rise again and breathe new life into the poverty-striken Bamiyan province.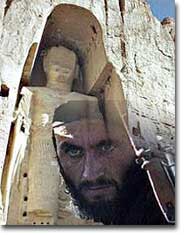 << The Bamiyan Buddhas before destruction by the Taliban
While they wait for the Afghan government and the international community to decide whether to rebuild them, a £685,000 project funded by UNESCO, the United Nations' cultural organisation, is sorting out the chunks of clay and plaster - ranging from boulders of several tons to fragments the size of tennis balls - and sheltering them from the elements.
The statues were chiselled into a cliff face about quarter of a mile apart more than 1,500 years ago. They were originally painted in gold and adorned with wooden faces and ornaments. Mural paintings of Buddha images covered cave rooftops flanking the niches from which the statues were hewn. Fragments of the murals are also being collected.
Rebuilding the statues, one 174ft tall and the other 115ft, will be like assembling giant jigsaw puzzles. But Bamiyan, so poor that dozens of its people live in caves, has high hopes.
"We can change local people's lives from being dominated by poverty if we rebuild one of the statues," Habiba Surabi, the governor of Bamiyan province, said.
The province, on the ancient Silk Road that linked Europe to East Asia, was once a centre of Buddhism. Today, most of its 400,000 people are Hazaras, a largely Shiite Muslim group that was persecuted by the Taleban during its 1997-2001 rule.
The Taleban blew up the statues in 2001, deeming them idolatrous and anti-Muslim. It was one of the regime's most widely condemned acts, and UNESCO has since put the entire Bamiyan Valley region on its World Heritage in Danger list.
Rebuilding the statues would cost about £16 million each, scientists say. "Whenever UNESCO finishes its work, we will appeal to the international community to try find the funds to rebuild at least one Buddha statue," Ms Surabi said.
Tourists still trickle in to the Bamiyan Valley, despite the continuing violence in Afghanistan, a lack of local amenities and a road from Kabul that is in such bad shape that the 80-mile journey takes nine hours.
Mohammed Abraham, who earns £2.64 a day working on the UNESCO project, remembers when hundreds of tourists came to marvel at the Buddha statues and buy handicrafts.
"Everyone here was very happy and rich compared to now," said Abraham, who lives with his eight children in a cave, without power or water, near where the larger statue stood.
"We lost everything when the Taleban destroyed the Buddha."
Mohammed Ayub, 34, said: "I hope for the Buddha to be built again. We don't have power, we don't have running water, we don't have jobs. We are living in these caves like wild animals."