A Buddhist's pilgrimage to Pakistan
by Manoranjan Sharma, Daily Times, May 24, 2018
Taxila, Pakistan -- At Lumbini in Nepal, we have a connection with Buddhism like a baby has with the breast. It is religious and spiritual, yes, but far more. Since it is the birthplace of Lord Buddha and a pilgrimage site, Buddhism – its sacraments and ceremonies – flows through the streets and sites of Lumbini like blood through veins. It is a part of our everyday life, like to a Muslim living in Mecca or a Christian in Vatican. So when I heard from my friends Bikram Pandey and Sarad Pradhan – who had been to Pakistan on the Buddha Circuit Tourism – about the country's Hindu and Buddhist monuments, I decided to go and explore our heritage there.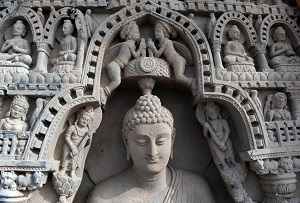 My Napalese friends were much surprised to see Hindu temples in Pakistan well preserved, an impression that you don't get from news media. My visit itself threw up more surprises. I found Pakistan quite different from what I had perceived it to be. The roads were safe, the security situation much better than what I had expected; the infrastructure good and the people friendly. But it was the country's rich culture and heritage – reasons why I had undertaken the visit that become a pilgrimage due to the holy nature of the heritage sites – that had me under its spell.
I only had time to visit Islamabad and Lahore but the extent and scope of heritage in these places alone was enormous, considering my brief sojourn. On arrival, the city of Taxila – about 35 km from Islamabad, the capital city of Pakistan – with its riches of archeological sites was an obvious first stop.
Most Buddhist archaeological sites in Taxila were built between 600 BC and 500 AD and are located around the Taxila Museum. For over a thousand years during the heydays of Gandhara civilisation, Taxila remained a centre for promoting sculpture, architecture and education in Buddhism. Over 50 sites of archaeological importance are scattered in a radius of 30 km around Taxila and all of them are based on the life of Lord Buddha, said Jawad Aziz, Chief Operating Officer with UNESCO in Islamabad.
According to Aziz, some of the most important sites of Taxila are Dharmarajika Stupa, Bhir Mound, Sirkap, Jandial Temple and Jaulian Monastery. Relics related to Buddhist heritage in Taxila are displayed in a chronological order at the Taxila museum which, said Aziz, attracted thousands of tourists to explore the Buddhist heritage every year.
The ancient Kingdom of Gandhara, situated near Taxila and extending to parts of present-day Afghanistan, was critical in spreading Buddhism. Asoka the Great, an Indian emperor of the Maurya Dynasty, mobilised his envoys to spread the message of Buddha, built stupas and carved Buddha statues in this area back in 300/400 BC. Greek and Buddhist followers in the Gandhara Kingdom developed and followed the Mahayana strand of Buddhism. Marananta, a Buddhist monk from the Gandhara in modern day Pakistan, is said to have spread Buddhism up to the Korean Peninsula, all the way through Northwest Pakistan and China in the fourth century. The Gandhara Kingdom lasted until the 11th century before splitting into parts. Some of these parts now fall in Pakistan and others in today's Afghanistan. Afghanistan also has a rich Buddhist heritage.
Of the Buddhist heritage alone, there are hundreds of sites scattered across Pakistan. Among them are the Dharmarajika Stupa in Takht-i-Bahi, Khyber Pakhtunkhwa, the Votive Stupa, Shingardar Stupa, the Amluk Dara Stupa situated in Taxila (previously Takshashila), and an iconic Buddha statue in Swat. Over the last three years, Bamala in Khyber Pakhtunkhwa has emerged as a major Buddhist heritage site after the remains of a 1700-year-old sleeping Buddha statue were discovered there. Long before Lumbini in Nepal was put on the UNESCO's World Heritage List in 1997 as the place where Lord Buddha was born, the Dharmarajika Stupa situated in Taxila, Punjab, was designated a UNESCO World Heritage Site in 1980.
Another Buddhist site of archaeological and historical significance is in Takht-i-Bahi. It is around 170 km from Islamabad, located in KP. The site comprises ruins of an ancient Buddhist monastery situated high atop a 152-meter hill. During the Buddhist period of the Gandhara Kingdom to which Takht-i-Bahi belongs (1000 BC to 7th century), the area that is now Northwest Pakistan and Southwest Afghanistan contained a significant numbers of such complexes. Takht-i-Bahi was included in the UNESCO World Heritage List in 1980 as the largest Buddhist archeological site dating back to the Gandhara period. In addition to two stupas, it has many other relics and remains. It is said that even Asoka the Great built stupas at Takht-i-Bahi.
At Tope Mankiala in Punjab is the Buddhist site where according to a legend, Lord Buddha fed seven hungry tiger cubs with his body parts. At Katas Raj is a famous Buddhist stupa sacred to Hindus, Buddhists and Jains. Around Peshawar city alone, there are over 500 heritage sites and monuments.
The tour to Pakistan left me revived like only a spiritual encounter could. It was heartening to see that the government was doing all it could to preserve the heritage sites. I feel I have to go back and see more because the cradle of our civilisation lies in Pakistan. However, despite its tremendous heritage of Buddhism, Pakistan has been unsuccessful in attracting tourists due to lack of conservation, promotion and adequate propagation. Apart from Pakistani citizens, foreign tourists rarely visit these places.
Preservation of heritage along with religious tolerance is key to restoring the confidence of pilgrim-tourists. Religion, especially minority religions, should not suffer because of cultural domination. The contemporary Buddhist population in Pakistan is around 1492. Though many foreigners used to visit Pakistan, foreign tourist inflow into the country fell sharply after the 2001 terrorist attack in the US. Recently, the government of Punjab province has introduced a $55m project for the conservation, promotion and propagation of major heritage sites including Taxila to boost tourism under the "Tourism for Economic Growth" theme.
The World Bank has committed US$ 50m under the Punjab Cultural and Heritage Tourism Project for Pakistan, said Kamran Akbar, Task Team Leader and Senior Disaster Management Expert of The World Bank. The remaining $ 5m would be borne by the provincial government of Punjab. The five-year project encompasses work on total eight heritage sites sacred to Buddhists, Hindus, Jains, Sikhs and Muslims including some on UNESCO's World Heritage List. "With the completion of the project, it will help increase the inflow of tourists to Pakistan by also linking the relationship of its heritages and monuments to those in the region," said Akbar.
Though Pakistan is not a Buddhist country, its rich heritage makes it an important pilgrimage site for the followers of Buddhism everywhere. Bikram Pandey, an expert working with the Buddha Circuit Tourism underscores the need to link Pakistan to the International Buddha Circuit given its abundance of classical Buddhist heritage.
In the recent history of conflict and natural disasters, Pakistan seems to be cheated of its great potential for tourism. Despite this, Pakistan has been carrying out infrastructure development programs ceaselessly. It has built wide highways across the country and possesses good road networks to connect people and resources. Construction work is underway for operation of metro trains in major cities. A separate road lane has been designated for operation of metro buses in Lahore and Islamabad. With all this infrastructure, says Vibeke Jensen, Director of UNESCO Pakistan, the country has immense potential for tourism. "Pakistan could achieve economic growth by developing the International Buddhist Circuit through propagation and promotion of its heritage sites to attract tourists."
Apart from this, Pakistan needs to ease up visa restrictions, especially on extension of stay. The logistics around travel and stay are good but they can improve through dedicated services for the tourists and pilgrims, such as separate services for foreigners at airports.