Buddhist era settlements in Pakistan close to extinction
Malaysia Sun (ANI), March 22, 2007
Islamabad, Pakistan -- Buddhist era settlements in the Dadu in Sindh are reportedly on the verge of extinction due to the Pakistan Archaeology Department's neglect.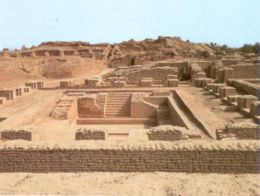 << During the reign of the Buddhist king Ashoka, Sindh would solidly become a Buddhist domain
According to the Dawn, one settlement at Siranikot, about 10 kilometres away from New Jatoi town, is on the left bank of Indus River in the sub-district of Moro. Spread over three acres, the settlement has a huge stupa in its middle, and is surrounded by 15-foot high and 10-foot wide courtyard.
The report claims that no research has been undertaken of the 12 to 13 Buddhist settlements in Sindh, and adds that they are spread over an area extending from Kutch in the south to Multan in the north.
The double-storey Siranikot Stupa is 25-foot high and is made of clay and mud. It has four gates and four watch towers. At present, the entire archaeological site is 'owned' by the Buriro clansmen who had built eight houses on the settlement in 1970s.
The stupa and walls of the fort are in the worst condition as no repair work has ever been undertaken. Rains have caused major damage to the parts of stupa and walls of the fort.
The people have built a village on the site, but they have not dismantled the ancient remains. However, their cattle roam freely around the site.
The locals have found over 25 different historical items from the site time to time, including engraved bricks, beads (perhaps of monks), terracotta figurines, sculptures and coins.
Some wooden pillars have also been found which might had been used for supporting locking the fort's gates.
The interesting thing is that the villagers having no experience of conservation have kept all these things in a cupboard of the local primary school.
Village elder Moli Rakhio Buriro told Dawn that the historical site was in their custody as the archaeology department had not claimed authority on it.
He said that only a few historians had visited the site and the villagers welcomed them. He demanded that the government should protect the historical site.
Archaeologist Dr Hakim Ali Shah Bukhari said that Siranikot site was 900 to 1,000 years old and it was a monument of the Buddhist era.
He said that Sirani was a Sindhi word meaning protection and Kot means fort.
Bukhari demanded that the archaeology department should take the site into their custody under Antiquity Act 1975 and protect it. He said that the place, if preserved, could be made important tourism point.
He also disclosed that human skeletons were also found at the site by few years ago, suggesting that before the construction of the fort and stupa, people lived there.