Pakistani militants try to blow up Buddha carving
By Hameedullah Khan, Reuters, Sept 12, 2007
MINGORA, Pakistan -- Militants in Pakistan have tried to blow up a seventh-century Buddhist rock carving in an attack reminiscent of the destruction of ancient Buddha statues in Afghanistan six years ago.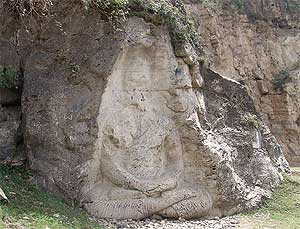 << A bomb detonated by pro-Taliban militants damaged a rock engraved with images of Buddha in northwest Pakistan that attracts thousands of tourists a year.
There was, however, no damage to the image of the sitting Buddha carved into a 40-metre high rock in mountains 20 km north of Mingora, a town in the scenic Swat valley, northwest of the capital, Islamabad.
A group of masked-men tried to destroy the carving on Tuesday, said provincial archaeology department official Aqleem Khan.
"Militants drilled holes in the rock and filled them with dynamite and blew it up," Khan said on Wednesday.
"The explosion damaged the upper part of the rock but there was no damage to the image itself," he told Reuters.
Buddhism spread through northern India and flourished in what is now Pakistan and Afghanistan hundreds of years before the arrival of Islam. Both countries are now predominantly Muslim.
Khan compared the attack on the carving to the destruction of two giant standing Buddha statues in Bamiyan province in Afghanistan in early 2001 by the then ruling Taliban.
The Taliban blew up the two ancient statues carved into a cliff face saying they were offensive to Islam, despite appeals from around the world, including from Muslim leaders, that they be saved.
"It's just like the way the Taliban used to behave," he said.
Khan said there were no arrangements to guard the site in the Jehanabad area in the Swat valley. Police had been informed of the attack, he said.
As in other parts of northwest Pakistan, militants have intensified their activities in the valley in a bid to force people to follow a strict Islamic code.
There have also been several attacks on security forces in the valley in recent months.
Last week, militants blew up about 60 music, video and cosmetics stalls in a market in the valley after their owners ignored warnings to close their businesses that the Islamists deemed un-Islamic.
Moderate Pakistanis are dismayed by the growing influence of militants pushing their austere interpretation of Islam, mostly in ethnic Pashtun tribal areas in the northwest, in a process known as "Talibanisation".