Tourism suffers huge setback in Swat
Associated Press, July 9, 2008
ISLAMABAD, Pakistan -- Swat, once the pride of tourism in the region and rightly called Pakistan's matching response to Switzerland, is no more presents the same picture.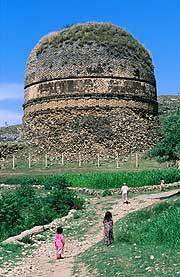 << Shankaradara Stupa, Swat Pakistan
Those who once gladly rushed to the place and were always in a hurry to find a place in its splendour now keep themselves away from it. What has happened? The answer is simple. The eruption of extremism has shaken the area. It has dealt a blow to the congenial atmosphere. It scares the local as well as foreign tourists. The peaceful environment so essential for tourism has been disturbed. The area has fallen victim to militancy.
The unrest in the picturesque valley not bode well. It has led to a loss of billions of rupees, besides rendering jobless thousands of people who since ages have been engaged in tourism.The gem of Pakistan tourism that once attracted tourists from all over the world, with its roads meandering the mountainous region along the River Swat, is now fighting the menace of extremism.
"Once we would run short of accommodation for tourists, but today we are waiting for them to come," said Badshah, a local tour operator. To add salt to wounds, militants only recently torched the country's only ski resort Malam Jabba.
Residents said a large portion of the resort had been reduced to ashes and the militants also damaged chair-lifts and a tower belonging to the meteorological department.
The PTDC-owned hotel, located some 150 kilometres north of Islamabad at an altitude of 2,636 metres (9,200 feet), was closed down several months ago. The reason was of course unfavourable conditions. PTDC officials feel equally worried over decline of tourism in NWFP. The Corporation is facing financial hardship in the wake of devastating earthquake in October 2005 that reduced a number of hotels/motels to debris.
"We've had tremendous tourism in Swat, both domestic and foreign-- but it is no more," PTDC Managing Director Brig (R) Amanullah told APP. He, however, hoped the situation would soon become normal once the law and order was restored which had gradually started improving.
Swat occupied unique position that kept enchanting nature lovers at home and abroad for years.
"I always felt crazy about Swat in summer. I have been to many places around the country, but none impressed me as much as Swat," said Haseeb Gul, a local tourist.
Malam Jabba ski resort stands on top of a mountain of the Hindukush range, north east of Saidu Sharif. Blessed with natural beauty and boastful of Gandhara civilization, it possessed modern tourist facilities. It had a 52- room motel, 2 skiing platforms, chairlifts, roller/ice skating rinks, restaurant, telephone and snow clearing equipment, etc. Extremism in the remote areas also poses a problem because it has disturbed peaceful and scenic areas of Pakistan, such as the famed Swat valley. Swat Valley has everything which makes Alpine Valleys so popular, white water streams, thick forests showing off their magnificent mountain slopes, lush green meadows and not to forget beautiful snow covered mountains.
Swat, the land of romance and grandeur, is held in reverence throughout the world as the holy land of Buddhist learning and piety. It acquired fame as a place of Buddhist pilgrimage. Buddhist tradition holds that the Buddha himself came to Swat during his last reincarnation as the Guatama Buddha and preached his teachings to the people here.