?Lumbini to be developed as centre for world peace?
The Rising Nepal, May 24, 2005
LUMBINI, Nepal -- Minister for Culture, Tourism and Civil Aviation and Chairman of the Lumbini Development Trust Buddhi Raj Bajracharya has conceded the Lumbini Master Plan designed for the integrated development of Lumbini area has been unable to catch up momentum.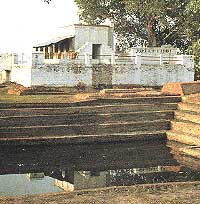 Speaking as the chief guest at special program held here yesterday by the trust to mark the 2549th birth anniversary of Gautam Buddha and Lubmini Day - 2005, Minister Bajracharya said the development of Lumibini has been circumscribed to speeches and rhetoric so far, and it will take hundreds of years for the master plan to be completed with the tortoise speed.
Prepared and brought out in 1978, the master plan was to be completed by 1995 vis-à-vis the fact that even half of the work has not been completed yet. The loitering implementation of the master plan is attributed to aberrations and corrupt attitude on the part of political parties in the past 13 years, said Bajracharya adding the development of Lumbini will be accelerated in the days ahead. Mentioning that the government is committed to develop Lumbini as the centre for world peace, he said the Bhairahawa-based Gautam Buddha Airport would be developed as an international airport within three years.
Vice-chairman of the trust Omkar Prasad Gauchan and others also spoke at the programme.
Meanwhile, Buddha Jayanti Celebration Committee held a poetry symposium yesterday to mark the 2549th birth anniversary of Gautam Buddha.
Speaking on the occasion Minister for Education and Sports Radha Krishna Mainali said the society should be led to the path of peace following the teachings of Lord Buddha. It is the duty of all citizens to work for peace in the country, he said.
Different individuals recited poems in Nepali, Tamang, Maithili, Nepalbhasha and Kirat languages on the occasion.
Also ?Peace race competition? was held here yesterday to mark the 2549th birth anniversary of Lord Buddha.
National athlete Baikuntha Manandhar had led the race that commenced from local Namobuddha Temple and ended at Swyambhu Mahachaitya. Some 15 runners had participated in the race.