Preaching on high
by Brot Coburn, Nepali Times, Published on the Buddhist Channel, 30 April 2022
A Christian evangelical group is converting Buddhists in holy Himalayan valleys

GORKHA, Nepal -- In 2014, a group called MountainChild signed a 5-year agreement with the Social Welfare Council to open schools in rural Nepal: the Sama Learning Centre in Nubri of North Gorkha is one of them.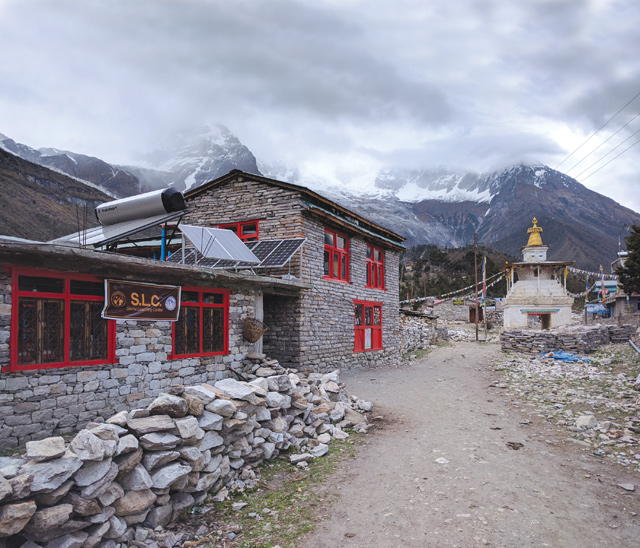 HIGH SCHOOL: A Christian school in Nubri the be-yul below Mt Manaslu next to a Buddhist Chorten (right).
There were rumours that MountainChild was a cover for evangelical Christian missionaries engaged in religious conversion and 'church planting' across the high mountain belt of Nepal, even though the Constitution states, 'No person shall… convert another person from one religion to another or any act or conduct that may jeopardise other's religion.'
"Well, we're giving them a choice," the fresh-faced American director of the school said when I pointed to evidence of their hidden agenda of conversion. He was implying that any interest a student expressed in converting to Christianity was voluntary. But can such a choice be truly free will, at Sama Learning Centre's KG and pre-KG levels, when the children are provided with food, clothing and promises of a glorious future blessed by Christ?
The Nubri and neighbouring ethnic groups proudly trace their lineage – their families, the generations of lamas and the teacher-disciple relationships – back hundreds of years. I asked the director how he could introduce Christianity without a scholarly background or personal knowledge of the millennium-old traditions, cultures and languages of the valley.
He replied: "Well, before Buddhism, they practiced another religion, then converted, so conversion is not new to this valley."
He may have been referring to the 8th-Century saint, Padmasambhava, who transformed the pre-Buddhist deities into defenders of the faith. It seemed arrogant to suggest that some development aid, and a conviction of moral righteousness, could co-opt a cultural system that has provided people with guidance, meaning, and connection for centuries in these holy, hidden Himalayan be-yul (treasure valleys).
MountainChild was founded by an American from Colorado named Jack Reid, and its influence in Nepal grew after the 2015 earthquakes when people were most needy and vulnerable. In an appeal for post-earthquake support, Reid wrote, '…We have an unprecedented opportunity to unfold God's pervasive grace upon areas that have only known martyrdom in the past. The hearts of these unreached are now open and they are crying for help. We are positioned for success through the decades of community-building that now affords us the relational grid to deliver both natural and eternal results.'
MountainChild works with The Footstool Project (from the biblical passage in which God exhorts, 'make your enemies your footstool'), which is another Jack Reid invention, single-mindedly dedicated to conversion. Its strategy is to send energetic youth to rural posts, while organising short-term mission treks for like-minded Christians from the United States, focusing on the 'unreached people groups' — Nepalis of the high Himalayan valleys, mainly those of Tibetan ethnic origin.
'They are raised the Buddhist way — no affection, no emotion, no love, just empty,' blogged one trekker, referring to the people she met in Nubri. 'The scenery might be beautiful here, but there is so much darkness! I don't feel hope or joy here. Everyone is just going through the motions, no direction, just dark despair. So sad….'
In a video of a sermon delivered to more than 2,000 parishioners in Alabama, Pastor David Platt referred to Nubri as a place 'where the Devil has had his way for centuries'. Villagers there see only the mere tip of the evangelicals' institutional and fundraising iceberg.
Dozens of US-based churches are providing MountainChild and The Footstool Project with financial support. Their philosophy suggests an ideological link to Assemblies of God, a fundamentalist, Pentecostal denomination with an aggressive agenda to convert the 'unreached'. The AG claim to have 13,000 churches in the US and 67 million followers worldwide. With that comes money – lots of it.
Nepal's Hindus and Buddhists have historically incorporated elements of other religions into their belief systems. But the evangelicals require that their Christian converts renounce and reject in their actions and hearts all expression of their existing spiritual traditions. This has aroused quiet scepticism among Jesuits and other Christians in Nepal, such as those connected to United Mission Nepal (UMN). These groups are doing unquestionably positive work, without a focus on conversion.
A prudent response to MountainChild's tenacious presence might be: Sure, take their money and gifts, and learn the English they teach. But don't relinquish your heritage as part of the bargain. An even more prudent response would be to enforce Nepal's Constitution.
Hidden treasure valley
The northern Gorkha area of Nubri is a sacred landscape recognised as a be-yul, a 'hidden treasure valley' designated by Padmasambhava, a place where the people have peacefully and (mostly) joyously existed for centuries.
The illegal proselytizing has sounded a wake-up call for the area's Buddhist lamas and practitioners, who find themselves needing to step up and compete with the lavish gifts and lofty promises of the Christian missionaries.
But Lamas in Sama village are now garnering support from donors to build a lay school that will supplant the Christian-supported school.
Nuptul Rinpoche, acting Co-Abbot of the Serang Monastery, says: "Missionary activity has brought disharmony to the village, which we have been called on to help resolve, including when a child from Bihi was converted. Because of that, parents asked us to create a lay school at the monastery." The school now has 38 students, in addition to the monastery's roughly 100 monks and nuns.
The Footstool Project (see main story) produced a dramatic, sympathy-raising video (featuring founder Jack Reid as a shadowy, godfather-type figure) that outlines its goal of delivering the Nubri people from spiritual 'darkness'. The clip recently disappeared from YouTube — possibly in response to questions posed by some prominent villagers.
Confronting evangelicals can be tricky because exposing their zealous agenda might only drive them further underground. They view non-Christian faiths and practices as the handiwork of Satan, while challenges to their beliefs feed the conviction that they are being 'persecuted' as Jesus was.
Buddhists in Nubri and throughout Nepal may need to proactively alert evangelicals that they are aware of their intentions and methods. Hindus and followers of other great Asian religions are similarly at risk of infiltration by these interlopers offering gifts of rice, education, hope and eternal salvation – which come at a very high cultural cost.
TARGETED PEOPLE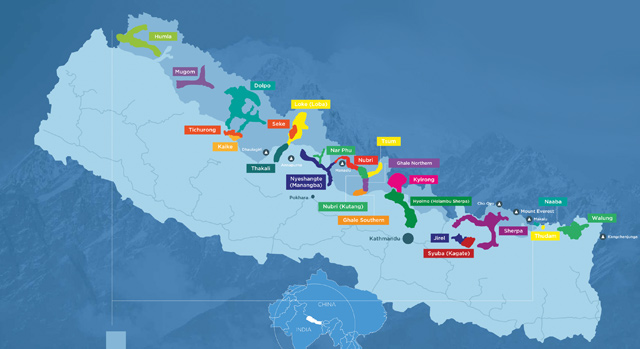 An interactive map of Nepal in The Footstool Project (https://tfp.asia/unreached) showing 23 Buddhist Nepali groups in high Himalayan valleys that are being 'targeted' by the evangelical group for conversion to Christianity. The groups says it is trying to 'reach the unreached.'
Brot Coburn lived in Nepal for 20 years, working in conservation and development, and is the author or editor of seven general trade books.