Buddhism on the rise in Buddha's birthplace
Story by SANITSUDA EKACHAI, The Bangkok Post, Nov 9, 2004
Lumbini, Nepal -- Encouraged by political openness and spurred by a yearning for peace, more and more Nepalis are finding the confidence to openly declare themselves Buddhist in the land where the Buddha was born.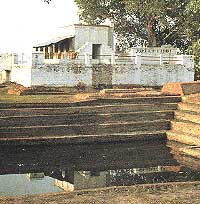 According to official statistics, approximately 10 percent of the population of this Hindu kingdom is Buddhist. But many believe the real figure could be as high as 30 percent.
The difference has been attributed to poor survey methods, the close synergy that exists in Nepal between Hinduism and Buddhism, and the fact that many Buddhist citizens, fearing discrimination, believe it is better for them politically and economically to be numbered among the Hindu majority.
"But things are now changing," said Dr Prem Khatry, a professor of culture and anthropology and adviser to the Lumbini Development Trust (LDT), who estimates that Nepal is home to more than 100 ethnic groups.
After Nepal's absolute monarchy came to an end with the advent of democratic changes in 1990, the relatively more open political atmosphere emboldened people to "come out" as Buddhist _ partly as a declaration of their true faith but also as a political gesture, as a means of asserting their identity. Hence the rapid increase in the Buddhist population in Nepal.
Buddhism there largely belongs to the Mahayana school but with a rich mixture of Hindu and Tantric rituals. The political change in 1990, however, helped boost a revival of the long-banished Theravada school, the form of Buddhism which is practised widely here and in Sri Lanka, Burma, Laos and Cambodia.
There has also been a blossoming in the meditation movement in Nepal.
"Before, our Buddhist communities only observed the rituals which helped to keep our cultural backgrounds [alive], but we did not really practise the philosophy," said Ratna Man Sakya, president of the Buddhist Meditation Centre and executive member of the LDT.
"This is not the case now. Meditation has now become very popular," he added.
Leading businessman Bijay Bajracharya is among the growing number of Nepali Buddhists who are not only committing themselves to serious meditation but also to social work to alleviate poverty and hunger. "The Buddha teaches us to overcome suffering," he said. "But we cannot expect people to pay attention to their minds when their stomachs are empty."
His charitable activities include the provision of free lunches, training in life skills and basic mind-calming practices to poor pupils. These measures, he said, have resulted in remarkable improvements in both the students' academic performance and their personal behaviour.
"There are so many people around us who suffer. It's our duty to help ease their afflictions," Bajracharya said.
His organisation has also set up a "peace garden" called Shanti Ban where people of all faiths can enjoy some moments of tranquillity and meditate, if they so wish. Though its focal point is a Buddha statue, the garden also feature images of gods from other religions.
The insurgency in Nepal has severely shaken the population, he said, and this makes people appreciate the Buddha's universal message of peace and non-violence all the more.
There are now nearly 100 Theravada Buddhist temples in Nepal, accommodating more than 200 monks and novices and some 100 nuns. This is a significant development considering the fact that dhamma propagation was banned and Buddhist monks were expelled from the country in the 1920s and that the first Theravada temple was only established there in 1943.
Many of these monks and nuns were trained in Sri Lanka, Thailand and Burma.
The close cultural affinity between Hinduism and Buddhism in Nepal is the reason why the authorities do not consider the rapid increase in the number of Buddhists there to be a problem, Dr Khatry said. Of more concern, he continued, are the Christian missionaries who work in remote areas of the country, because they often teach their converts to debunk old cultural beliefs and practices.