Nepal becoming Mecca for Buddhist studies
BY POST B. BASNET, Kantipur Online, Aug 26, 2005
KATHMANDU, Nepal -- It may be a new thing to many that Nepal is evolving as one of the sought-after venues for higher level Buddhist studies. Dozens of institutes for Buddhist studies have emerged in Kathmandu alone to meet the demands of huge numbers of Westerners, flocking every year, seeking knowledge of Buddhism in Nepal.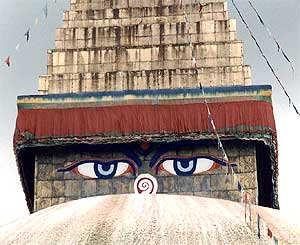 Interestingly, Greg Whitefield, a Briton, who first came to Nepal in 1991 for a development project, has become a veteran Buddhist. He has also been running the Rangjung Yeshe Institute, a Buddhist institute founded by Tulku Chokyi Nyima Rinpoche, as the principal, since 2002. "The future religion of humanity will be based on scientific laws. Buddhism is very scientific as it is based on the laws of cause and effect. You can question everything in Buddhism," Greg told the Post.
He also said Buddhist institutes in Nepal offer the study of Buddhism through Himalayan languages (Tibetan, Sanskrit and Nepali). "Since studies are done through the original Buddhist text, most westerners are attracted to Nepal," he added.
Greg's Institute has been offering various courses including Bachelors' degree.
The trend of foreign students coming to study Buddhism here began during the mid-seventies, said Greg. Now there are mainly five to six main institutes in the capital that cater to the increasing number of students interested in Buddhism from all over the world.
John Simpson, another Briton, who has been studying in the Rangjung Yeshe Institute, said western universities also offer courses in Buddhism. "But many people are fascinated by the courses in Buddhist studies in Nepal, as it combines theory and practice," he said.
The Rangjung Institute is affiliated with Kathmandu University to integrate the Buddhism course with a university degree.
Greg said the Institute plans to run Master's program in Buddhism.
Many Buddhist institutes in Nepal have developed small package courses up to university degrees in Buddhist studies.
Simpson said people in the west are getting disillusioned with the process of modernity, which teaches that happiness could be achieved through material gains. "People are now seeking spiritual peace. And Buddhism has an answer to the crises the world is going through," he said.
Nepal Mahayana Buddhist Center in Kapan, established in 1970, has been a famous center for Buddhist studies as well as a retreat for meditation. It has its separate programs for Buddhist studies and retreat. Bhikshu Khedup, reception manager of the Center, said that five to six dozen foreigners, mainly Europeans and Americans take part in each program, which is conducted six or seven times a year.
Alex, a student of philosophy at Boston College, has been studying Buddhist philosophy in the Rangjung Institute. "I am attracted to Buddhist studies in Nepal because it has the blend of theory and practice," he said.
Chhepal Sherpa, a Nepali student at the Institute, said that study of Buddhism in Himalayan languages is the main attraction here.