Shantiban: A Landmark For Peace
By Rajeev Dangol, PeaceJournalism.com, Issue 11, Sept 2005
Kathmandu, Nepal -- Just 11 km from Katmandu city, Shantiban is easily visible from across the road with huge golden statue of Buddha in meditation posture. It only takes 20 minutes village walk to reach the spot. Perched on a hill, the 25 feet tall Buddha's image is the main attraction of the place.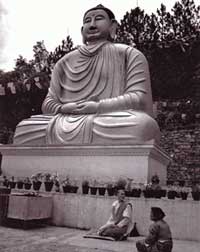 << Giant Buddha image in Shantiban
Locals as well as tourists come here to worship and pay respect to Lord Buddha. The place has a different charm altogether; the blissful ambience, peaceful nature and the sweeping view of Godavari settlements below. Thee open space in front of the statue has been converted into a school where poor children from nearby villages join free Buddhism classes.
The children are blessed by the Buddhist priests with their valuable speeches and discourses, and they are getting free food, free stationery and free text books and free teachings of Buddha.
Shantiban was built two years back in 2002. The huge image stands 25 feet from the ground and on the top of the image is placed a crystal. Crystal is known as a symbol of peace.
The Buddhist monks deliver teachings of Buddha 'Pariyati Shikcha' to children. This lesson needs to be prioritized by country like Nepal for many reasons. One of the major reasons is that Nepal is the birthplace of Lord Buddha, and as of the present time when many parts of the world are getting inclined to Buddhism, it can be made a good Buddhism learning school. Apart from Asia, even in west, Buddhism has become a matter of interest to learn, which might open a new market for Nepal that is heavily lying on tourism and other relative activities, The other reason is the present turmoil in the country which can only be measured through decent and peace loving people having ideal knowledge and an in-depth meaning of life. To meet both the targets this Shantiban can be a good start.
Bijay Bajracharya is the person who has taken such a huge responsibility on his shoulder. He is devoted to spread love and tends to defeat the hatred between human to and human to every living being on earth with the slogan 'Shantiban Worldwide Campaign'. Shantiban is a way out for his dreams of sharing peace with the rest of the world.
Since the creation of Shantiban many other international Buddhist organizations have shown interest in helping this noble cause. A similar kind of initiative is going to be made in Lumbini. "We are just trying to teach these children to become a rational human being in the future. These lessons would teach them what is good and what is bad. We have just started this. Paryati Shikcha holds great inspirations for life. It teaches how to live a happy life without hurting others' feelings. This is just a part of moral education that one must get. Besides, we are giving them few lessons on meditation as well so that they can develop sharp mind and concentration while learning," says volunteer and a family member Jagat Bajracharaya.
Currently some hundred students are being taught Buddhism at Shantiban. Every Saturday students gather in the premises of Shantiban, and under- the feet of huge image of Lord Buddha, these students get lessons of Buddhism. Two teachers have been appointed for conducting classes, one male and the other a nun. "It's a great feeling to leach these children what I know. I have just started teaching here and have found children very attentive and enthusiastic. Now I have arrived to Panchshil lesson, which is a must-learn lesson from Buddha. Panchashil sheds light on the five not-to-do principles in life: Pana ti Pata (avoid violence),Adi na Dana (do not take without giving),Kame su Michakhara (do not involve in illegal sexual relationship with others than your wife/ husband), Musu Wada(do not lie),Suramarya Majamada (stay away from drugs and liquor).
All the lessons are in Pali language but translated in Nepali for easy understanding," says Ajay Raj Shakya, a teacher in Shantiban Shikchalaya. Both the teachers are engaged in Shantiban for the of social development rather than commercial benefits. Godavari has been the best place for the locals and tourists to spend some of their valued time in peace to themselves.
Its peaceful environment, greenery, unpolluted air and solemnity have been attracting hundreds of nature lovers and picnic goers every day. However, Shantiban, has added one more attraction to Godavari lovers. For them, Shantiban certainly holds a greater prospect for reviving their belonging to peace and all we have to do is to recite three sacred lines: Buddham Sharanam Gachaami, Dhammam Sharanam Gachaami, Sangham Sharanam Gachaami.