Bhutan first nation to ban tobacco sales
by THOMAS BELL, The Indian Express, November 19, 2004
KATHMANDU, Nepal -- The tiny Himalayan kingdom of Bhutan is not accustomed to leading the world in public health matters, but next month it will become the first country to ban tobacco sales outright.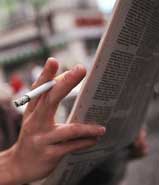 Bhutan?s Trade and Industry Ministry has given shops, hotels, restaurants and bars until December 17 to dispose of tobacco stocks or risk losing their trading licence. Illegal cigarette dealers will face a fine of pounds 113, almost double an average month?s wages in the Himalayan kingdom.

The price of a packet of cigarettes in the capital, Thimpu, doubled within a day of the announcement at the beginning of this week, as smokers in the absolute monarchy prepared themselves for lean times.
??We want no pollution and good health for our citizens,?? said a government minister, Jigme Thinley. But a poll on the website of Kuensel, the kingdom?s sole weekly newspaper, showed that not everyone was grateful, with 50 per cent of the people opposing the ban.
Bhutan?s monarchy has attracted attention with its doctrine of valuing ??gross national happiness?? above Gross National Product. It has pursued a string of policies aimed at preserving the purity and heritage of the country and of its subjects themselves.
Views of the country differ from an unspoilt Shangri-la to a grim dystopia ruled by monks and aristocrats with Orwellian slogans. Mahayana Buddhism, the kingdom?s established religion, is the basis of the legal system and informs many policies, probably including the tobacco ban. The faith praises nature, regrets ??pollution?? and condemns causing any injury to living creatures. Bhutan?s pristine environment is constantly emphasised in official literature.