Search continues for Bara's Buddha boy
Kantipur Report, Photos by Shankar Acharya, March 12, 2006
KATHMANDU, Nepal -- The 16-year old teenager Ram Bahadur Bomjon, who had been meditating without any food or water in the jungles of Ratanpuri village in Bara district, and had disappeared under unknown circumstances in the early hours of Saturday morning, has still not been found.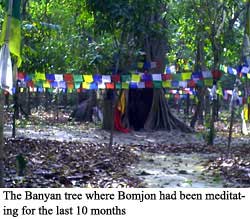 Talking to eKantipur over the phone, Harihar Dahal, assistant chief district officer said Bomjom disappeared from the meditation site at around 3 am on Friday and that the police had been dispatched to look for him.
Kantipur correspondent Shankar Acharya quoted an eyewitness as saying that Bomjon left the site at around 3 a.m. and moved towards the south.
He (Bomjon) reportedly left his clothes 40 metres away and the fences surrounding the meditation site had been broken.
"There were a dozen volunteers to look after him, but Bomjon left while all the volunteers were asleep," reported our correspondent.
An official at the Nijgadh Police Station told us that the search for Bomjon has been intensified.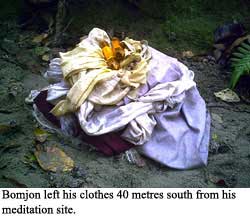 "We came to know about his disappearance at around 8 am this morning and immediately began our search but we have not yet received any information," said inspector Ram Kamal Acharya.
"We were informed by Bed Bahadur Lama, chairman of the Om Namobuddha Tapoban Protection Conservation Committee, which was established to look after Bomjon's welfare about the disappearance," said the inspector.
"It is learnt that a local resident Sahila Tamang has accompanied him," the officer said.
The officer also emphasised that it was not an abduction case.
"Based on our preliminary investigation, we are almost certain that Bomjon left the meditation site on his own will," the official said.
Plainclothes policemen and locals in the area have been mobilized to find Bomjon, according to the police.
Earlier, state-owned Nepal Television reported that Bomjon was found in the jungle near his meditation site within hours of his disappearance.
The place where Bomjon began mediating in May last year soon turned into a pilgrimage site as thousands of devotees flocked to see him believing him to be the reincarnation of Buddha.
Ratnapur VDC born Bomjon began studying Buddhism for five years after attending the local primary school till class five. He then spent some time in Lumbini and Dehradun (India), spending one more year studying Buddhism and returned home in January last year. He began his mediation after spending a further four months studying Buddhism at home.