No Clue Yet on Missing Bara's 'Buddha Boy'
The Himalaya Times, March 14, 2006
Bara, Nepal -- No clue has been found on the 'meditating Buddha boy' Ram Bahadur Bamjan, who went missing on Saturday from the Charkose Jhadi at Ratanpuri of Bara where he was meditation under a peepal tree 'without food and water' for the past 10 months, till early morning.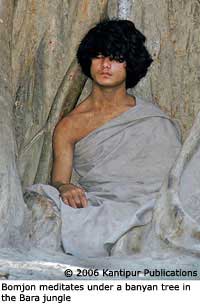 No clue was found in Bamjan's case till late in the evening, Police Inspector of the Unified Security Base Camp, Ram Kamal Acharya, said.
The security team deployed for the search of Bamjan in the jungle areas around the meditation site returned without any results, Acharya said.
The Bhoomisiddhi and Nagpooja, which were being performed according to Buddhist and Hindu rituals since Sunday, wishing for the return of Bamjan also concluded on Monday.
Bamjan's mother, Maya Devi said she was hopeful that her son will return due to God's power and her prayers. She hasn't taken food or water since the disappearance of her son.
Meanwhile, the District Administration Office, Bara, today freezed the bank account of officials of the Om Namobuddha Tapaswi Sewa Committee in the Nijgadh branch of the Rastriya Banijya Bank. It was a joint account of the officials of the committee — Ek Ratna Kunwar, Ashok Tamang and Baij Nath Gurau.
Acting CDO Hari Krishna Khatiwada said the move was taken to prevent the misuse of the money collected from offerings made by devotees at the meditation site. There is Rs 636,194 in the account, the bank said.
Chairman of the committee, Bed Bahadur Thing, said the money collected in the account has not been misused. The number of devotees coming to the meditation site was almost negligible today.